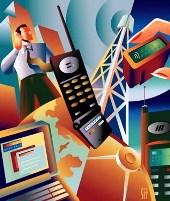 The department of telecommunications feels the bilateral pacts invoked by three foreign telecom investors on the recent cancellation of their licences can't apply to these cases.

For, it reasons, the cancellation wasn't due to an act of the government; it came by a Supreme Court order.

As a consequence of SC cancelling all 122 licences issued in the sector after 2008, three companies -- Sistema JSFC, Telenor Asia through its Singapore arm and KAIF Investments of Mauritius which is a foreign investor in Loop Telecom -- have sent notices to the government for conciliation and arbitration under the Bilateral Investment Promotion and Protection Agreement (Bipa), or the Comprehensive Economic Cooperation Agreement, both pacts signed with various countries.


India has a Bipa with the Russian Federation and Mauritius, and a Ceca with Singapore, ratified by the respective governments.

DoT notes the cancellation was an SC decision and one applying to all licences granted on or after January 10, 2008, without discrimination against any one foreign investor.

It has, however, sought more clarification
from the Attorney General on the matter, as to whether foreign investors can indeed claim damages under Bipa or Ceca.
DoT has also got representations from Unitech Wireless, the Shiva Group (promoter of S Tel) and Loop Telecom for protection of their investment and refund of cost of acquisition of the licence or payment of entry fee.
In, for instance, its reply to the legal notice from Sistema through their legal firm, White & Case LLP, London, DoT has noted Sistema Shyam Teleservices had moved the SC in what is termed a 'curative petition' against the order and a decision of the apex court was awaited.
Therefore, the "alleged dispute cannot be said to have arisen, as of now".
It has, on a reconciliatory note, added the Government of India wished to reiterate its commitment to the provisions of the agreement in question and would welcome any move to amicably resolve any dispute that may arise with investors.
Sistema's notice argues that, among other things, terming its licences illegal is contrary to the obligation to promote and protect foreign investments (including but not limited to the obligation to accord fair and equitable treatment) and amounts to expropriation.