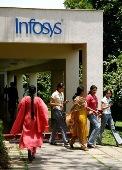 The US may review its B-1 business visa programme following allegations by a local Infosys employee that the Bengaluru-headquartered information technology company was misusing it to tackle H-1B visa restrictions.

In February, Jack Palmer, who was working with Infosys' Enterprise Solutions Practice, had filed a lawsuit, alleging that the company was involved in systematic visa and tax fraud to increase profits.

In his 13-page complaint filed before an Alabama court, Palmer had alleged that Infosys was sending lower level and unskilled foreigners to the US to work in full-time positions at its customer sites in direct violation of immigration laws.

"Recently, one of our employees filed a lawsuit against us which alleged, among other things, that we were improperly utilising the US B-1 business visitor visa programme," Infosys said in a filing to the US market regulator, Securities and Exchange Commission, last week.

"A US senator submitted a letter to the Secretary of State and the Secretary of Homeland Security, requesting that their respective departments review the B-1 business visa programme and investigate the manner in which it is being utilised by companies, including Infosys," it added.

B1 visas are essentially short-term visas for business travellers, which allow a person to stay for six months to a year.

During his stay, the B1 visa holder maintains the visitor status.

H-1B are work visas that allow US employers to employ foreign workers for up to six years, in specialty occupations like architecture, engineering, mathematics, physical sciences, social sciences and biotechnology.
Employees must be graduates (except fashion models).

An L-1 visa, easier to get, is valid for a relatively short time -- generally three years.

It is available to employees of a company with offices in both the home country and the US.

Indian IT service companies are heavily dependent on the H-1 and L-1 visas to send engineers on a temporary basis to the US.

These employees help in transitioning clients' works to India other than gathering business requirements of the clients and getting the design ready. Sometimes, they also support the clients' IT infrastructure maintenance works from onsite.

The H-1B visa cap was 195,000 in 2002, which gradually reduced to 65,000 in 2008.

At the end of March, Infosys had 10,100 employees in the US on H-1B visa and 2,200 employees on L-1B visa.

This number did not include the employees of the company's business process outsourcing and other wholly-owned subsidiaries.