Indian information technology firms, especially Infosys Technologies, are again being singled out by US politicians for the loss of jobs in their country - a claim hotly contested by Indian IT service providers and industry association Nasscom.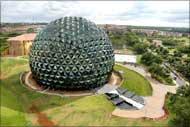 Infosys, which derives over 66 per cent of its revenue from North America, employs around 12,000 people in the US. However, while discussing the Immigration Bill on the US Senate floor on Thursday, Charles Schumer, the Democrat Senator from New York, likened Infosys Technologies to a "chop shop" - the place where stolen parts are dismantled and sold.
The senator was participating in the debate before the Senate passed a $600 million Border Security Bill which has proposed to almost double the H-1B and L-1 visa application fees from $2,300 to $4,300.
"The emergency border funds will be paid for by assessing fees on foreign companies known as chop shops that outsource good, high-paying American technology jobs to lower wage, temporary immigrant workers from other countries. These are companies such as Infosys. But it will not affect the high-tech companies such as Intel or Microsoft that play by the rules and recruit workers in America," The Wall Street Journal quoted Schumer as saying in the Senate.
The Indian IT industry has consistently protested the anti-outsourcing rhetoric of American politicians. The uproar of the anti-outsourcing lobby was at its height when the US was heading for presidential elections, and continued even after President Barack Obama took over.
In May 2009, fresh out of elections, Obama had singled out Bangalore, the Silicon Valley of India, to refer to outsourcing of jobs. "Say no to Bangalore and yes to Buffalo," the US president had said at that time.
Infosys resisted from making an official statement on the Senators' statement. However a senior company executive said: "It's very unfortunate that the Senator has made such a statement. Politicians make all kind of statements in the legislature and we don't want to show a red flag to the bull at this point of time."
On its part, the company has been trying to increase the number of local people on its rolls. "There is not enough talent in the country (the US), which is hampering this cause," said an official from the company's human resources department. For the past several quarters, Infosys has recruited 200 to 250 local people in the US, he added.
Talking to Business Standard recently, Infosys CFO V Balakrishnan had said the company was planning to hire about 1,000 people in the US in the current financial year.
"We are also taking a lot of interns. Currently we have about 5 per cent local people in our global workforce, and we would certainly like to increase the number. But it will take some time," he had added.