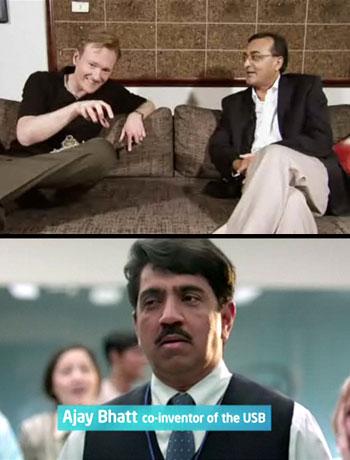 When Intel launched its 'rock star' advertisement campaign earlier this year, Indian-American computer guru and Intel fellow Ajay Bhatt, best known as the co-inventor of the USB (Universal Serial Bus), suddenly found himself front and centre on world-wide television programming.
In a highly feted 30-second advertisement, a self-confident Bhatt stalks through the offices of Intel, waving to admirers and signing autographs for star struck well-wishers, followed by a sign that reads: 'Our rock stars aren't like your rock stars'.
The only problem, however, is that the diminutive, toupee'd, mustached Ajay Bhatt in the advertisement is actually an actor.
Enter US funnyman and The Tonight Show's new host Conan O'Brien. Upon hearing that the Ajay Bhatt on his television wasn't the real Ajay Bhatt, an incensed O'Brien set up an interview with the Intel wiz, to get to the bottom of the story.
In the interview, Conan and the mild-mannered, bespectacled Bhatt chat across a range of ridiculous topics, thanks to the zany Conan's wacky sense of humour.
First, Conan claims that, according to his Internet research, Bhatt played "Woody" on the television show Cheers.
"That is not true," Bhatt replies, still composed but fighting back laughter.
O'Brien then attempts to stir up some controversy by inviting Bhatt to talk negatively about some of USB's competitors, such as Apple's FireWire. It's at this point that Conan accuses Bhatt of owning 'solid gold shoes'.
A deadpan O'Brien then asks Bhatt whose contribution impacted society more: Bhatt's invention of the USB or Conan's interview with Rebecca Romijn in 1998.
In the end, Conan never unearths why Bhatt was portrayed by an actor. But to demonstrate that the real Ajay Bhatt does indeed possess the necessary acting chops, Conan directs a mock Intel commercial of his own, which sees the Intel guru strutting down sidewalks in Los Angeles, wearing a "I co-invented the USB" t-shirt and using his tech wizard status to pick up attractive women.
Check the video out on NBC's web site. It's a laugh!
Image: Conan O'Brien and the 'real' Ajay Bhatt (above); the Intel advertisement with the 'fake' Ajay Bhatt