Without Google's Android operating system, Huawei may have to put off new launches.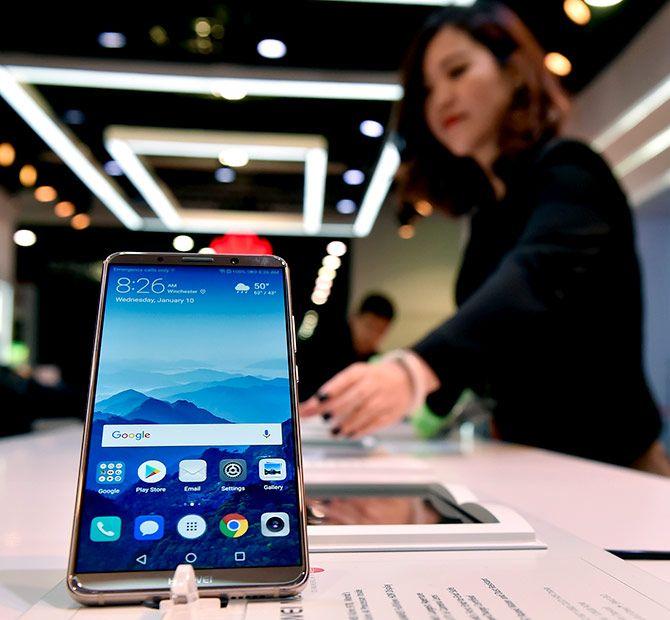 American internet major Google has banned Huawei from some of the Android mobile services, in a new twist to the continuing trade war between the US and China.
Other US-based tech giants such as Intel and Qualcomm, too, have deserted Huawei globally, adding to the adverse impact on the India business of the Chinese telecom major.
International reports suggest that suppliers from Europe may follow suit, a development that could hit Huawei even harder.
Marketing its handsets under brands like Huawei and Honor, the Chinese firm had managed to grow its share in the highly competitive India market recently.
With the latest developments globally linked to a perception of security threat, Huawei is looking at a bleak future in India and some other key markets, analysts pointed out.
Without Google's Android operating system (OS), Huawei may have to put off new launches, market analysts and experts said.
Android OS, that powers over 90 per cent of the smartphones in the country, has been the only operating system used by Huawei to date.
From its flagship devices like Huawei P30 Pro and P9 to its top-selling mid-level smartphones like Honor 9N and 9i, each one is dependent on different versions of Android.
Its tablets, too, are solely running on Android OS.
Moreover, Google's virtual monopoly over the smartphone market (globally Android holds over 80 per cent of the market) and its vast software ecosystem would mean an unprecedented control over any hardware maker.
The burn of dissociation with it could be catastrophic for any handset maker, said analysts.
"Without access to Android OS, it would be nearly impossible for Huawei to operate," said Navkendar Singh, research director, IDC India.
While Huawei has been developing an in-house OS for quite some time, Singh said for any new OS to establish itself in the market takes years.
"In today's world, where an all-round OS ecosystem like Android exists, it takes at least two to four years to develop another OS that can stand before competition," he said.
"Huawei has made substantial contributions to the development and growth of Android around the world.
"As one of Android's key global partners, we have worked closely with their open-source platform to develop an ecosystem that has benefited both users and the industry," the company said in an email statement.
Google's latest move also means that not only its OS, but all its mobile apps like YouTube, Google Maps, Chrome, and Gmail, among other hundreds of apps, will be inaccessible to Huawei.
The new order from Google, however, has spared its existing devices in the market, which would continue to operate.
Assuring its customers, Huawei said, it "will continue to provide security updates and after-sales services to all existing Huawei and Honor smartphone and tablet products, covering those that have been sold and that are still in stock globally."
While it didn't specify its plans on launching the in-house OS, the company added it "will continue to build a safe and sustainable software ecosystem, in order to provide the best experience for all users globally."
In India, Huawei had moved up the pecking order in the January-March quarter to the seventh spot, with over 4.5 per cent share under its belt.
IDC said Huawei, along with Xiaomi and Samsung, played a key role in the strong growth in India's online sales channel for smartphones.
The smartphone sales, through the e-commerce channel, grew 20 per cent year-on-year during January to March, to reach over 40 per cent of the total market.
Globally, Huawei reached the second spot, replacing Apple.
During the quarter, Huawei (19 per cent share) registered volume growth and stood just behind Samsung (23 per cent share).
Apple was at the third spot, with 11.7 per cent market share, IDC reported.
In 2018, it had shipped some 206-million handsets globally.
Photograph: David Becker/Getty Images