The issue large Indian firms face is not bandwidth or scale but one of mindset and business model.
Shivani Shinde reports.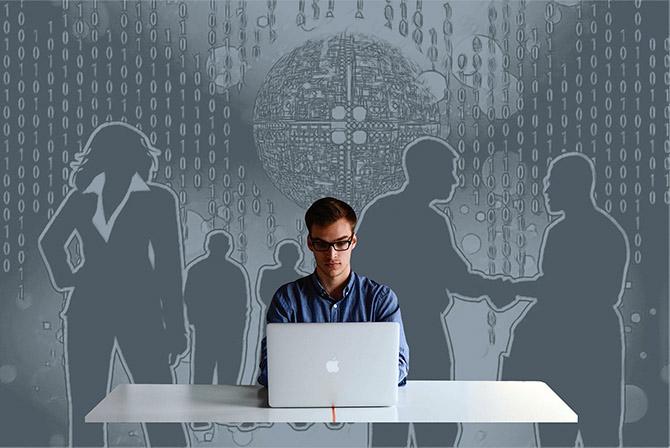 The analyst community tracking the Indian IT services industry took special note of Accenture's first quarter (Q1) performance, which showcased the rapid growth of its consulting business that outperformed its outsourcing business.
Bookings indicate that the trend will continue.
Consulting bookings increased 41.6 per cent year-on-year (yoy) to $9.4 billion, higher than the 17.6 per cent growth in outsourcing to $7.4 billion.
The management commentary was also more bullish on the consulting business.
On an analyst call, Julie Sweet, CEO, Accenture, said that consulting will see strong double-digit growth, "even probably stronger than what we saw".
What does this mean for the top four Indian IT services players?
Strong growth in consulting means an increase in corporate discretionary spending, which in turn means more downstream work eventually. But several analysts believe that if the top IT services players want to continue with double-digit revenue growth then having a presence in upstream or consulting work is a must.
"There are two aspects to this.
"The good part is that clients are in a new cycle but they are planning/consulting on how to shape up this transformation.
"So we may not see large/mega deals. But clients are in the next cycle of investment and the market is out there for downstream work," said Pareekh Jain, CEO Pareekh Consulting, adding, "The downside is that Indian players are unable to tap into the client decision-making when they are in the consulting process, so they lose out to competition."
But creating consulting capabilities is not as easy as it may sound.
If you look around, Indian players have failed to beef-up their presence in this space — both organically and inorganically.
Take Infosys. In 2012, the company acquired Zurich-based Lodestone Management Consultants for $360 million.
The deal was a sign that Indian players were taking cognisance of consulting capabilities.
Some years later, the company announced that it was merging Lodestone into its Management Consulting Services unit.
This move was expected to propel Infosys into the big league of IBM, Accenture and others.
But that doesn't seem to have happened.
Much before this, HCL Technologies acquired Axon in 2008 in a £440 million deal.
The idea was to acquire consulting skills to propel the outsourcing work.
Since then, the company has pivoted; not only has consulting been side-lined but the focus is now on products and platforms.
Peter Bendor-Samuel, CEO of Everest Group, an advisory firm, believes that the issue large Indian-based firms face is not bandwidth or scale but one of mindset and business model.
"Consulting is a different business model from the SI (system integrators) and managed services that Indian firms are built around.
"They have tried on multiple occasions to build consulting practices, and for the most part have failed," said Bendor-Samuel.
"Cognizant stood out as an exception to the rule; however, after the departure of its consulting leader, it too has taken a step back.
"I must note that other managed service firms such as EDS and to some extent IBM also struggled to maintain both models.
"Having said that, Accenture and Capgemini demonstrate that this can be done if senior leadership and the board recognise the difference and commit to allowing both models to exist without trying to integrate them," he added.
But Indian players are not giving up the fight so easily.
Tata Consultancy Services (TCS), the largest player in India, has been aggressively charting an organic play into consulting.
In a media call after the Q4 FY21 results, Rajesh Gopinathan, CEO & MD, said that the upstream (consulting) work that is cornered by the Big Four and the consulting services provider needs to change.
He said the traditional consultants have used a "cookie-cutter" type of approach to solve problems.
Meanwhile, peer and competitor Wipro announced the acquisition of Capco last year in a $1.5 billion deal that gave it end-to-end capability in digital, consulting and technology services for the banking, financial service and insurance, or BFSI segment.
The Street cheered this bold move — growth had slowed till then and peers such as HCL Technologies had overtaken it — but whether it will pay off remains an open question.
"Without a long-term commitment, understanding the differences and building for the long run, both inorganic and organic initiatives tend to run into problems after a few years.
"One of the most troubling obstacles is the volatility and higher talent cost in consulting. An SI/managed services firm quickly loses patience," said Bendor-Samuel.
"It is unclear which of the large Indian firms have learnt this lesson.
"It is likely that Infosys and Wipro may have, as they both have CEOs who come from Capgemini and understand the differences in the models," he added.
Jain believes that it is all about timing.
"I think from a timing perspective it is right. The top four IT services players are much bigger brands now than they were a decade back.
"Besides, if they want to be among the top five global players in the next five years, then they need to get into consulting."
According to Statista, the IT consulting and implementation market is expected to reach $575 billion by 2021.
Some of the biggest players in this segment include the Big 4 consulting firms such as McKinsey, Deloitte, PwC along with Accenture, IBM, Capgemini.
Though Indian players have acquired consulting capabilities, no one reports the growth numbers or what percentage of their revenue comes from such services.
In an earlier interview with Business Standard, TCS' Gopinathan said this shift has meant a lot of internal introspection.
"One of the exercises that we have been doing for the past few years has been identifying the value of what we do.
"There are multiple G&T projects that TCS was participating in and executing very well, but what we did in the last few years was to become more aware of which part of the customer agenda we are partnering with.
"And this awareness is the key part of our strategy," he said.
Bendor-Samuel has a word of caution: "Consulting is a large and important market. However, Indian SI players' traditional advantages of labour arbitrage and process excellence are less helpful in consulting, and they face large and excellent competitors who are better positioned to compete.
"The most formidable of these are the Big Four accounting firms.
"Given the structural advantages these incumbents have, it is likely that none of the large Indian firms will be able to achieve market leadership in the consulting market anytime soon."
Photograph: Kind courtesy geralt/Pixabay