They are both electronic manufacturing services (EMS) companies, also known as contract manufacturers.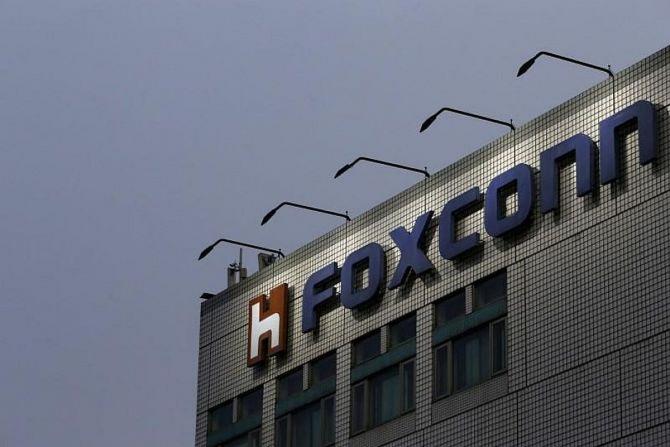 Photograph: Tyrone Siu/Reuters
One is Taiwan's Foxconn group, the undisputed global number one in this business with revenues of $223 billion.
The other is Dixon Technologies, the biggest domestic player with revenues of over Rs 10,500 crore.
But they have another point of commonality.
Both are leveraging the government's production-linked incentive (PLI) scheme covering a range of industry segments.
Dixon is eligible for PLI benefits in five sectors — mobile device, telecom products, IT products, LED components and wearables — in which the government has collectively offered incentives worth over $8 billion.
Foxconn, through two companies — Hon Hai, which exclusively assembles for Apple Inc, and Rising Stars that has been renamed Bharat FIH — is eligible for PLI benefits in three segments.
These are mobiles, telecom products and IT products.
The Foxconn top brass has hinted that the company may foray into electric vehicles in the country — a new area for the group — though no details are available yet.
But Foxconn's biggest play is still to happen and that is in semiconductors, for which it has tied up with Vedanta (Foxconn will take 40 per cent stake) to invest in a chip plant with an investment of Rs 60,000 crore.
But there are clear strategies behind both Foxconn's and Dixon's decision to embrace PLIs.
Dixon's focus is simple: become a global EMS player.
Managing director Sunil Vachani explained, "For us, PLI is a stepping stone to build champions like us from India that will be globally competitive.
"So we look at industries that are labour-intensive, where we can leverage India's design strength, undertake value addition and where there is potential for import substitution while we choose the PLIs in which we want to play."
Vachani said Dixon wanted to be one of the top five global players in five years.
It has projected group revenues to hit Rs 17,000-20,000 crore in FY24, over Rs 13,000 crore of which it expects to achieve in FY23.
But the important part, he added, was that 40 per cent of the revenues will come from PLI-led sectors.
Dixon also plans to develop its own design expertise across these segments and might even look at acquisitions in this space.
To reach its objectives, it will be investing over Rs 900 crore for the various PLI scheme years.
It has already overshot the Rs 200-crore investment requirement under the PLI scheme in mobile devices for the entire period by investing Rs 500 crore.
This acceleration in investment has paid off; Dixon has already received orders from Motorola and Samsung to assemble 2G and 3G mobile models to begin with, graduating to 4G and 5G eventually.
The PLI incentive, which ranges from 4 to 6 per cent of the f.o.b. (free on board) value of the goods produced, has certainly been the game changer for Dixon.
Dixon exported phones worth Rs 657 crore in FY22 and its FY23 target is Rs 1,200 crore.
If things go according to plan, about 40 per cent of total mobile phone revenues will come from exports.
In LEDs, Vachani pointed out that though it is one of the largest players in the business in India exports had been a challenge principally in terms of competing with Chinese prices for an annual market of $30 billion.
Participating in the PLI for LED components has helped Dixon localise quickly — its value addition in LED lighting has gone up from 35 to 65 per cent and has helped it gain enough scale to compete on costs.
Work is on to raise it to 90 per cent.
"As a result, we are now able to match prices our global clients are looking for.
"We should be able to hit Rs 500 crore of export volumes in two years," Vachani said.
In IT products, too (where the PLI scheme is being revamped), Dixon plans to assemble tablets and laptops.
It is already manufacturing monitors for Dell and tablets for Lenovo and has tied up with Acer to manufacture laptops in their plant.
The focus here initially will be on import substitution and building the local supply chain (the company will invest in component manufacturing, which is expected to be included in the revised PLI).
Currently, over 90 per cent of these products are imported, mostly from China.
For Foxconn, 75 per cent of its contract manufacturing production is in China.
But it is hedging against this one-country dependence, just like some of its key clients (Apple Inc, Google).
Apart from Vietnam and the US, India has attracted its attention.
Thanks to Apple Inc's decision to shift capacity from China to India, analysts say Foxconn subsidiary Hon Hai will soon become the largest supplier for iPhones from India (the other two are Wistron and Pegatron) in FY23.
Hon Hai had to invest Rs 1,000 crore in four years under the PLI scheme but put in the entire money in two years.
Based on its commitments, it will have to hit minimum revenues of Rs 25,000 crore in FY26, mostly from exports. It will also be a big employer and is working on constructing hostels to house over 60,000 rooms, mostly for women, in its manufacturing facility in Tamil Nadu.
Taken together, the three Apple Inc vendors would be producing 10-12 per cent of the global value of iPhones in the world by FY26.
Google, which also makes its Pixel phones in China, has been planning to shift capacity to Vietnam.
But in its discussions with Google CEO Sundar Pichai, who visited New Delhi last week, the Indian government suggested assembling from India.
Analysts say that Google could use Foxconn's second subsidiary, the PLI-eligible Bharat FIH (which assembles phones for Xiaomi), to assemble it for them.
Foxconn's big bet would of course be the chip plant.
The Foxconn-Vedanta joint venture is one of three players to have applied under the government's semiconductor policy, which is offering a huge subsidy of 50 per cent of the capital cost of the plant.
The winner is still to be announced and there have been reports of lukewarm response from potential investors to put in additional money.
Government officials, who have been part of the discussion, have said that Foxconn has assured a buyback of chips made in the India operations.
This shouldn't be a stretch since Foxconn would require around $30 billion worth of chips annually for its foray into electric vehicles as well as for the consumer electronics that it assembles.

Clearly, the two big EMS players have their plans charted out to leverage the government's signature scheme to boost manufacturing capabilities in India.