While there has been an improvement in the overall demand environment, the other reason expected to trigger this growth is the absence of a bench strength in most companies
Illustration: Uttam Ghosh/Rediff.com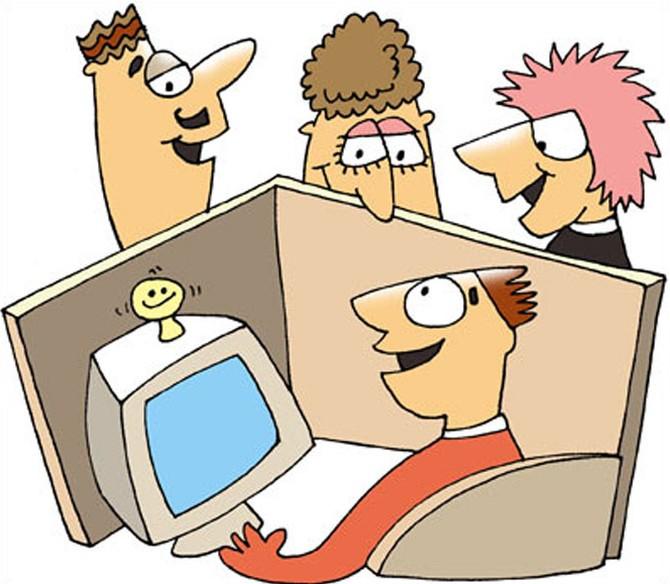 After hitting a slow lane, IT hiring is expected to pick up pace, with most of the domestic companies reaching peak utilisation level and bench (reserved employees) strengths nearing zero.
Although hiring may not be on the same scale as in the past, almost all Indian and global IT firms are expected to step up hiring, including freshers as well as laterals (experienced people from other companies).
"There is certainly a demand upsurge for both freshers as well as experienced resources with IT skillsets, and from the top IT players alone, the increase is almost 15 per cent over last year," according to Mayur Saraswat, head, sales & digital, TeamLease Services.
"Skills in areas of artificial intelligence, machine learning and digital marketing are driving this interest."
While there has been an improvement in the overall demand environment, the other reason expected to trigger this growth is the absence of a bench strength in most companies, with employee utilisation levels hitting peak levels at most.
Tech Mahindra, for example, saw its employee utilisation level touch an all-time high of 84 per cent (excluding trainee) in the first quarter, even as the attrition rate peaked to 19 per cent.
After seeing a steady decline in its employee headcount, the company added employees on a net basis in the June quarter, reflecting an uptick in demand.
Infosys saw its employee utilisation level hit an all-time high of 85.7 per cent (excluding trainees) and attrition level touching 20.6 per cent during the April-June quarter, one of the highest in recent years.
The company added 5,798 people to its payrolls.
In case of Wipro, the utilisation stood at 85.2 per cent, a 270 basis points improvement over the previous quarter.
"Our campus hiring (numbers) for the current fiscal will be higher than the previous," said Saurabh Govil, chief human resources officer of Wipro.
In the June quarter, Wipro added 832 employees on a net basis, taking its overall headcount to 164,659.
Similarly, Tata Consultancy Services, the largest Indian IT services company, which saw its headcount dropping by 1,400 in the first quarter of 2017-18, added 5,877 people in the first quarter of 2018-19.
"We have been hiring. And going forward, it will be more," said chief executive officer Rajesh Gopinathan during the post-earnings call. TCS does not share employee utilisation numbers.
Pune-based midcap IT firm Persistent, which saw its headcount drop to 8,902 in the first quarter, compared with 9,401 a year ago, said the company was likely to step up its hiring.
The company's utilisation level in the June quarter touched 80.7 per cent, against 77 per cent in the same quarter last fiscal.
"We have already hired 300 freshers. We expect to add 500 more to our payrolls next year. Freshers hired locally in US centres are also being trained there," said Anand Deshpande, chief executive officer, Persistent.
Another midcap rival, Hexaware, still sees a linear revenue-headcount graph and expects hiring to grow.
During the first-quarter results, L&T Technology Services' chief executive officer Keshab Panda said the company was actively hiring freshers over experienced employees across geographies.
During the quarter, the company saw a net addition of 774 employees.
Sister concern L&T Infotech added more than 1,000 during the quarter, and also indicated further addition, especially in the sales and marketing segment.