Shares of telecom services providers – Reliance Industries (parent of Reliance Jio), Bharti Airtel, and Vodafone Idea – have shed up to 23 per cent so far in the current calendar year as growth in the wireless subscriber segment begins to plateau amid higher tariffs and rising costs of smartphones.
By comparison, the benchmark S&P BSE Sensex, and sectoral index BSE Telecom have dipped 1.8 per cent, and 12.6 per cent, respectively, ACE Equity data shows.
However, analysts expect the trend to reverse soon as telecom services providers focus on the next leg of growth -- fixed broadband (FBB) segment.
Piyush Pandey and Nitin Tiwari of YES Securities, for instance, expect a pick-up in fixed broadband growth led by low penetration, affordable tariffs, and falling differential price compared to wireless data.
"Moreover, the demand for work from home (WFH), Learn from home, etc. will drive demand for fixed broadband subscriptions," they wrote in a recent note.
Recently, Reliance Jio launched a fixed broadband plan starting at Rs 198 per month.
The FTTH (fibre-to-the-home) plan is cheaper than its earlier base plan of Rs 399/month.
Users will also have the option to pay Rs 100/month more for 6 OTT apps and 400 live TV channels, and Rs 200/month for 14 OTT apps and 550 live TV channels.
The new plan is available for only new RJio customers, protecting the company from any customer downgrade.
"We believe the newly introduced plans are suitable for customers who purchase their direct-to-home (DTH)/Cable, OTT, and Broadband plans separately, as users tend to spend Rs 800-1,400 per month.
"In our view, customers can save up to 40 per cent of their billing amount by purchasing these plans.
"The implementation of the new tariff order (NTO) will also accelerate the switch to the new plan," said Santosh Sinha and Pulkit Chawla of Emkay Global.
Analysts feel Bharti Airtel should soon launch its competing plan to avoid any customer churn.
"Airtel's DTH revenue/Ebitda was on a decline already due to fall in user base with shift to FTTH.
"We do not expect much impact on Bharti's home services (FTTH business) as users at higher speed (40Mbps+) are unlikely to downgrade to 10Mbps speed.
"However, if Bharti fails to launch competing services, it may lose FTTH subscribers market share," said Sanjesh Jain of ICICI Securities.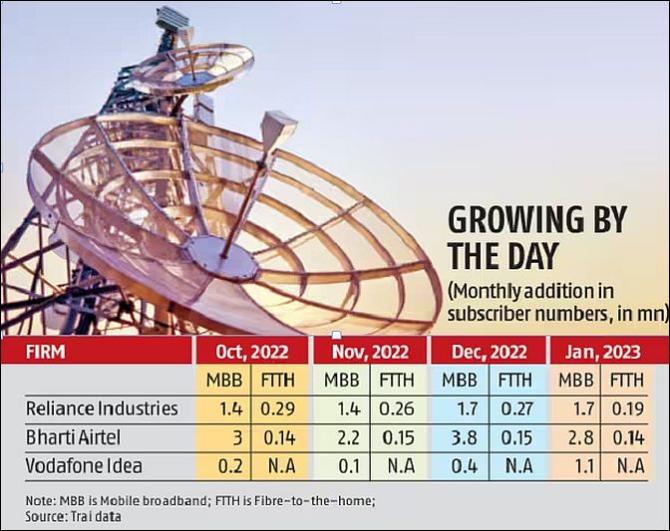 As per data from Telecom Regulatory Authority of India (Trai), India's FBB subscribers inched up 24 per cent year-on-year (YoY), or 0.76 million, to 33.1 million in January 2023.
JioFiber added 0.19 million (up 62 per cent YoY) FBB subscribers, and remained the market leader with a 23.7 per cent market share.
Bharti added 0.14 million (up 35 per cent YoY) FBB subscribers.
That said, media reports suggest that Trai is examining if tariff and broadcast rules are being violated by some recent fixed line broadband plans offered by Bharti Airtel and Reliance Jio.
It has sought responses from the telcos.
Investment strategy
Jefferies has upgraded Bharti Airtel to 'Buy' with a target of Rs 900 as it expects Bharti Airtel to clock 13 per cent growth in its mobile ARPUs over FY23-25, and see market share gains amid 5G rollouts.
Prabhudas Lilladher, meanwhile, has target price of Rs 1,008 on Airtel, and Rs 2,878 on Reliance Industries.
"While Bharti Airtel remains on strong footing, the financial condition of Vodafone Idea remains precarious as it continues to lose subscribers, and has the lowest ARPU in the industry; we expect it to underperform.
"Reliance Jio, meanwhile, is expected to maintain the steady growth trend in subscribers and ARPU," said YES Securities.
That said, near-term overhang of 5G related capex and subscriber churn should be watched by investors.
Moreover, rising receivables, benefits of 5G roll-out being back-ended, and aggressive dividend payout policies remain additional negatives.
"While the benefit of Production-Linked Incentive (PLI) scheme is extended by the government till FY26, the ability of the companies availing this benefit to maintain their margin profile after FY26 remains to be seen," cautioned India Ratings and Research.
---
Disclaimer: This article is meant for information purposes only. This article and information do not constitute a distribution, an endorsement, an investment advice, an offer to buy or sell or the solicitation of an offer to buy or sell any securities/schemes or any other financial products/investment products mentioned in this article to influence the opinion or behaviour of the investors/recipients.
Any use of the information/any investment and investment related decisions of the investors/recipients are at their sole discretion and risk. Any advice herein is made on a general basis and does not take into account the specific investment objectives of the specific person or group of persons. Opinions expressed herein are subject to change without notice.