Fanfare of FIFA World Cup 2014 travels continents as Indian techies root for the tournament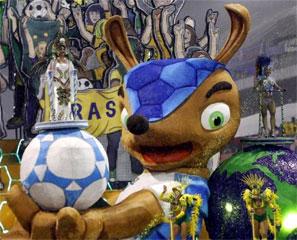 India's technology companies are riding the excitement of the FIFA World Cup 2014.

Infosys, India's second-largest information technology (IT) services company, has hosted games, interaction opportunities and information about the World Cup on a centralised platform for its employees. Football enthusiasts in the company can also interact on a discussion forum hosted on InfyBubble, an enterprise networking platform.

"The 2014 FIFA World Cup is being keenly followed by many individuals, and to build on the excitement, Infosys is running initiatives both at the organisation level and within particular locations," said Richard Lobo, assistant vice-president and head of employee relations at Infosys.

Several companies are using new technologies like social networking, media, analytics and cloud computing to offer predictions relating to the World Cup.

Yahoo!, using information available on its micro-blogging and social networking platform Tumblr, has declared Brazil the winner of the tournament. "Taking into account the 27.3 million relevant posts, we had a complete bracket and a winner: Brazil," Yahoo Labs said.

Blogmint, a networked community of bloggers managed by the Noida-based Tangerine Digital, has launched a Football Bloggers' World Cup. The championship will take place among 32 bloggers, divided into eight groups, and the top two from each group after the league stage will qualify for the knockout.

"Since we work so closely with bloggers, this idea of Football Bloggers' World Cup was seeded to enhance the exhilaration of fans," said Seeraj Katoch, chief operating officer at Tangerine Digital. "It will be tough competition both on the field and in the bloggers' arena," he added.

Mobile messenger Nimbuzz collated opinions from a string of questions every day through a chat buddy that appears as a regular contact of over 25 million users across the country. Nimbuzz's 'Pulse of the Nation' special report reveals Argentine footballer Lionel Messi is most likely to get the Golden Boot for scoring the most goals and Brazilian footballer Neymar Junior is most likely to get the Golden Ball for best player.

The report also states Portuguese footballer Cristiano Ronaldo leads the list of most fashionable players.
Here's the kick
Infosys has hosted games, interaction opportunities and information about the World Cup on a centralised platform for its employees.
Football enthusiasts in the company can also interact on a discussion forum hosted on InfyBubble, an enterprise networking platform
Blogmint has launched a Football Bloggers' World Cup, a championship that will take place among 32 bloggers