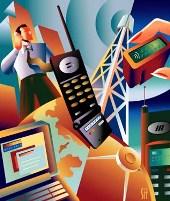 The department of telecommunications has directed state-owned Bharat Sanchar Nigam Ltd to prepare a voluntary retirement scheme for 50,000 of the latter's employees.

The move will require a one-time payment of Rs 4,000-5,000 crore (Rs 40-50 billion), for which DoT would give financial support, a senior official from the latter told Business Standard.

This is part of the government's measures to get loss-making BSNL back on the rails.

The latter has 280,000 employees, far higher than the industry standard. Last month, Union communications minister Kapil Sibal had said the government would turn around BSNL in the next six months.

About 50,000 of BSNL employees are expected to retire in the normal course in the next four to five years, the official said.

When asked, BSNL chairman and managing director R K Upadhyay said, "The Board for Reconstruction of Public Sector Enterprises had recommended we give VRS to our employees.
The exercise is still on and we have not taken any decision on it yet."
The need to reduce the workforce was earlier suggested by Sam Pitroda, advisor to the Prime Minister on infrastructure.
He wanted BSNL to reduce its employee base by about 100,000.
DoT had earlier directed both BSNL and its sister concern, Mahanagar Telephone Nigam Ltd, to work on reducing staff. MTNL, which offers telecom services in Delhi and Mumbai, has asked DoT to clear a VRS to be offered to 15,000 employees in the current financial year, a third of its workforce.
The proposal has already been cleared by the MTNL board. It has asked DoT to help with Rs 2,000-3,000 crore for this scheme.<
However, any proposal for reducing workforce has been met with strong opposition from the staff unions.
Even schemes for a VRS have been opposed.
For the first time since inception in 2000, BSNL had posted a loss, of Rs 1,823 crore (Rs 18.23 billion) in 2009-10.
It is expected to post one of Rs 2,500 crore (Rs 25 billion) for 2010-11.