While Digital India, a signature initiative of PM Narendra Modi, took off soon after NDA came to power, it peaked after demonetisation in November 2016
Illustration: Uttam Ghosh/Rediff.com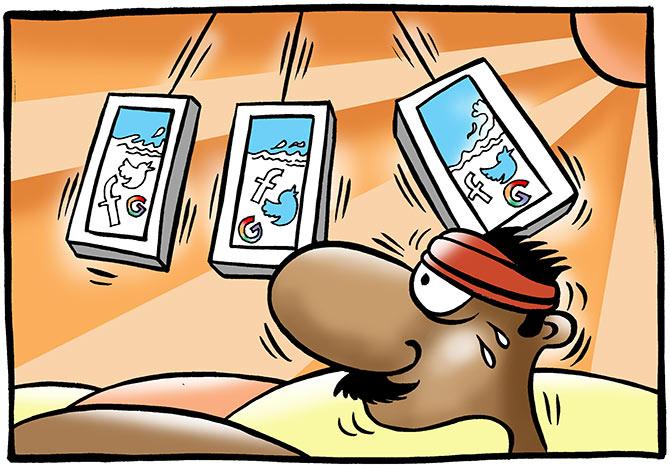 Even as former Prime Minister Rajiv Gandhi got the credit for bringing computers to India in the 1980s, it's the current NDA government which is top of the mind for its narrative on technology.
While Digital India, a signature initiative of PM Narendra Modi, took off soon after NDA came to power, it peaked after demonetisation in November 2016.
During the past three years, the push for 'going digital' has been all pervasive - from village-level e-panchayats to distributing subsidies under direct benefit transfer (DBT), from launching apps such as BHIM to going big with Aadhaar identity platform.
Goal unclear
However, such rapid growth has its own sets of challenges. Many experts believe that while the 'intention' is noble, the government's purpose is still unclear and there are problems in execution.
It's true that demonetisation and the absence of physical currency popularised the digitisation drive of the government. But, the infrastructure around creating a robust payments ecosystem remains weak, point out experts.
"Demonetisation definitely gave a spur to the digital drive. However, it needs to be more about developing an ecosystem rather than being a reaction to an event. While the government's initiative is good, there are no fleshed out game plans," said Raman Roy, chairman of Nasscom, the industry body for the country's IT sector.
He added there is reluctance on the part of technology companies to work with the government.
"There are issues around payments for services given to the government. We provide the best of IT services world over but when it comes to India, companies are reluctant. Such things need to be sorted."
Security concern
Cyber security is another area waiting for attention, as recent attacks such as ransomware WannaCry and Aadhaar data leak have shown.
"While the last three years have been historic as far as the digital initiative is concerned, we as a nation have not done much around cyber security.
The 'Digital India' programme has serious drawbacks as it has not taken into account the risks with going digital. The IT Act needs to be strengthened as things such as ransomware are still not covered in it,'' said Pavan Duggal, cyber law expert and an advocate in the Supreme Court.
He cited breaches in Aadhaar too as a major security risk. ''So the legal and policy frameworks need to be in place going forward," according to Duggal.
Effect of cash comeback
Once the cash was back in the system months after demonetisation, the digital rush also weakened. According to Reserve Bank of India (RBI) data, digital transactions in April fell both in value as well as volume as compared to March when it peaked and reached an all-time high.
April saw total digital transactions of a little more than Rs 1 lakh crore, down 26.78 per cent from Rs 1.5 lakh crore a month before that, according to provisional data from the RBI.
Industry experts pointed out while more money has started flowing into the capital market post demonetisation, digital cash transactions, which peaked in the months following the 'note-ban', are now plateauing. However, apps such as BHIM are seeing traction.
The drive continues
Meanwhile, the government continues to promote the digital initiative. In this year's budget itself, the government allocated Rs 10,000 crore for its BharatNet programme with a target to reach 150,000 gram panchayats with high-speed broadband by end of the year.
Over the next three years, it also plans to integrate 65,000 primary agriculture credit societies (PACs) with the backend banking infrastructure of district cooperative banks at a cost of Rs 1,900 crore.
The Ministry of Electronics and Information Technology (MeitY), which gives the technology direction to other ministries, has seen its budget increase by Rs 534 crore to Rs 4,039 crore for the year ahead.
According to government sources, while just 2,000 kilometres of optical fibre cable (OFC), a critical component for broadband and telecom services, was laid under the UPA regime, the BJP government has laid more than 170,000 kilometres of OFC.
Digitisation of various areas has been introduced this year by the government, including women and child development, digital skill development in villages under the DigiGaon initiative and online education. Even donations being made to political parties are going digital.
The build-up
For promoting cashless transactions, the government in the past six months has tried everything from organising massive events such as the "Digi-Dhan Mela" hosted by the Prime Minister, launching new digital ways of transactions including Aadhaar-enabled payments system, apps such as BHIM (Bharat Interface for Money), Unstructured Supplementary Service Data (USSD), Bharat QR to even a dedicated television channel called "DigiShala" to educate people in cashless transactions.
The push for digital transactions, use of mobile wallets and the Unified Payments Interface (UPI) started just the day after the PM's note ban speech. Wallet companies such as Paytm and FreeCharge even went on to bring out full-page jacket advertisements congratulating the PM for his "gutsy" move.
"We are making a conscious effort to empower citizens, to promote the digital initiative. Our common service centres (CSCs), Aadhaar, DBT among other such schemes are all helping in the Digital India initiative," said Ajay Kumar, Additional Secretary, MeitY.
Way forward
Some of the areas where experts see the next phase of growth in Digital India initiative are the legal system, health, education and job creation. As the government has created a technology backbone around JAM (Jan Dhan, Aadhaar, Mobile) in the last three years, it feels it is time to take it forward.
"I believe the government has already hinted that it is going to bring the legal system into the Digital India initiative. The Modi government is linking a universe of things together into the initiative," said Arvind Singhal, chairman and managing director of Technopak, a prominent consulting firm.