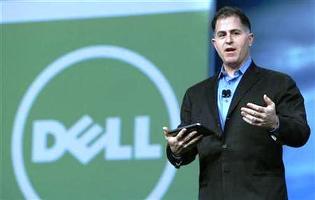 Even as investors debate over Dell's founder's offer to take it off the market, it has launched a new marketing campaign in India, four years since the last one.

Globally, Michael Dell's company, which is the world's third-largest PC manufacturer, will have to offset the decline in the demand for PCs, reiterated by IDC's latest shipment figures.

Dell has been trying to grow its enterprise solutions business to do just that and brace for the future.

In fact, experts say that the founder wants to buy back Dell's shares from the market to aggressively grow this segment, away from the punishing scrutiny of shareholders.

Meanwhile, its Indian arm is launching a renewed bid for a greater mindshare of its computers.

After all, in Asian markets such as China and India, Dell not only had to tweak its made-to-order business model but, of late, has been facing stiff competition from H-P, Acer and Lenovo in the PC segment.

It has, so far, missed the mobile-devices wave of smartphones and tablets with a few false starts in both.

According to IDC, from growing at 30 per cent in 2010, the PC market is now growing at just 3.5 per cent in India.

With the new marketing campaign, Dell is sticking to its global plan to expand its business solutions portfolio, while continuing to support consumer PCs.

Since 2008, Dell has invested around $10 billion to build an enterprise solutions bouquet that would sit over its PC division.

It has made 16 acquisitions over the last two years for it.

In 2012-13, the enterprise solutions and services business accounted for one-thirds of the company's revenue and half of its gross margin.

Prasanto Roy, editorial advisor, Cybermedia, says, "Given the consumer preference for smartphones and tablets, Dell's product mix has gaps which are hampering its growth in the consumer segment.

So, Dell's focus has been to build the enterprise side of the business with servers, storage devices, and IT solutions and services".

"Dell is a completely different company from what it was earlier. We have successfully transformed from a box-player to an end-to-end IT solutions provider," says Ravi Bharadwaj, executive director, marketing, Dell India.

Extending its brand promise of providing 'The Power to Do More', the latest campaign depicts achievements to showcase how technology can help consumers -- both young professionals and enterprise customers – realise their dreams or achieve business success.

The campaign for its enterprise audience talks about business successes of Dell customers. Through case-studies, it showcases how Dell's technology solutions helped enterprises meet their business goals.

Dell India's last campaign in 2008-09 featured real-life entrepreneurs, such as Raman Roy, considered the father of Indian BPO industry, and corporate chiefs as endorsers for the brand.

However, since then, many PC companies have used well-known names to talk about productivity enhancements due to their brand of PCs/laptops.

Other brands such as Acer and Lenovo have roped in celebrities such as Hrithik Roshan and Ranbir Kapoor, as experts point out that mid-priced brands are largely undifferentiated on their technical specifications.

"Dell has a huge brand recall, but it could not take a call on price (as in lower prices), being focused on profits against volumes in 2012," says Kiran Kumar, research manager at IDC India.

Competitors took advantage of this delay.

As per IDC India data, Dell was on top of the PC shipment heap (including laptops) in 2010 and 2011.

Dell was second with 15 per cent market share (volumes) in 2010, and led with 16.4 per cent in 2011.

But it slipped sharply in 2012, all the way down to being fourth, behind Lenovo, H-P and Acer.

A price decrease on many of its products in Jan-Mar, 2013, has helped it claw back to the second position, along with with Acer (H-P has the lead).

In India, the bulk of Dell's business comes from the consumer devices space -- selling laptops and PCs -- even as the company goes about building itself an enterprise business, offering IT solutions to SMEs and large enterprises.

Thus, the new marketing drive will also have a strong consumer aspect.

To connect with its biggest consumer segment in India, the youth, the campaign portrays how young people use Dell to power their interests, from fixing a bike, painting the neighbourhood, learning how to box to preparing for a rock-n-roll gig.

Features of the Dell Inspiron, such as the touchscreen and HD webcam get highlighted in the process.

"The idea is to be in the consideration set of the youth by building a strong emotional connect.

The underlying message is to use technology to unleash your passion," explains C Harikrishnan, vice president (south), Grey Group, the creative agency behind the campaign.

Bharadwaj says building an emotional connection between customers and technology has always been integral to Dell's strategy.

So, it has decided to talk about success stories of customers to break the clutter in a market led by celebrity endorsers.

Bharadwaj says, "Our campaign emphasises our belief that technology can help anyone realise their dreams -- from a young consumer to an evolved CIO."

Once the campaign runs its course, it would have claimed the highest spends by Dell India in advertising, according to Bharadwaj.

Since March, this year, Dell has harnessed the social media not just for teasers of the campaign but even to unveil it.

Once a buzz got generated, the TVCs were relayed on social media, before they hit the small-screen in late-April.

Traditional media will now tap into markets in tier III towns, where Dell expects the next volume of demand for PCs and laptops to emerge from.

However, Dell will need more than a communication push in its markets.

IT analysts point out that the challenge for Dell will be to spruce up its product mix with more on-the-go devices.

If Michael Dell wins over the activist shareholders, then it might not have to.
Image: Dell founder and CEO Michael Dell | Photograph: Robert Galbraith/Reuters