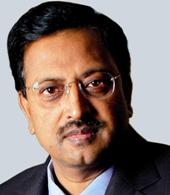 CBI on Monday moved Supreme Court seeking cancellation of the bail granted bail to B Ramalinga Raju, tainted founder of Satyam Computer Services, by Andhra Pradesh High Court in Rs 14,000-crore (Rs 140-billion) scam.
The probe agency has challenged the high court decision contending that Raju, who was the Chairman of the company, may influence the witnesses majority of whom are his former employees.
The high court on August 18 allowed Raju's bail on the ground that all other accused in the case including his brother Rama Raju, former Satyam chief financial officer V Srinivas and three others former IT company employees G Ramakrishna, Venkatapathi Raju and Ch Srisailam were granted bail by it.
T Srinivas, Satyam's auditor was granted bail by the Supreme Court. However, the CBI contended that there cannot be any parity between Raju and others as far as the seriousness of the case is concerned.
". . . parity can not be claimed by the respondent (Raju) that he is on par with T Srinivas who was granted bail by the Supreme Court on February 4, 2010.
"Parity could be claimed only if the roles of two persons (Raju and Srinivas) are similar or identical," the CBI said in its petition while appealing against the bail granted to Raju on furnishing two personal bonds of Rs 20 lakh (Rs 2 million) each.
The probe agency, in its petition filed by advocate Arvind K Sharma submitted that the roles of Srinivas and Raju was quite different in the scam and the latter could not be granted bail on that criteria.
Over Raju's health, the CBI submitted that 'his condition is improving' and he is 'showing positive response to the treatment'.
Hence the bail should be cancelled.
Raju, who was arrested on January 9 last year and is currently undergoing treatment for liver infection in the Nizam Institute of Medical Sciences in Hyderabad, was ordered by the court to appear before the trial court once he is discharged.
On August 30, CBI had moved the apex court seeking cancellation of the bail granted to Rama Raju, Srinivas, Ramakrishna, Venkatapathi and Srisailam accused in India's largest corporate fraud.
The court had issued notices asking them as to why their bails should not be cancelled and had directed them to file reply.
On January 7 last year, Raju in a letter to Satyam's Board, admitted to fudging the accounts of the company over the past several years and creating fictitious assets where none existed.
He was arrested two days later.
Image: Ramalinga Raju