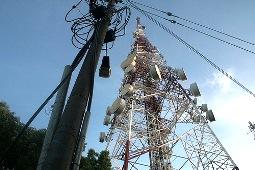 Private telecom companies might not want to risk the lives of their employees in the process of expanding operations in regions affected by Left-wing extremism.

But they would soon find themselves indirectly financing the setting up and running of mobile services in these regions, across nine states.

For expanding mobile services in LWE areas, the government plans to offer Bharat Sanchar Nigam Ltd a hefty subsidy through the Universal Service Obligation fund, which is built with a share of private telcos' revenues.

A draft cabinet note has been moved for approval to use the USO funds in award of the work to BSNL on a nomination basis, waiving the requirement for the open bidding process.

The note argues the project should be awarded to BSNL, given the home ministry's urgent need to implement mobile services in the LWE areas and lack of commercial viability of the project.

It has also been proposed that the subsidy payment be made on an actual basis according to the claim submitted -- including the entire capital expenditure and operational expenses — after deduction of revenues (expected to be very low).

According to home ministry estimates, 56,000
inhabited villages are not covered by any telecom service provider.
Of these, 2,199 fall in nine states -- Andhra Pradesh, Bihar, Chhattisgarh, Jharkhand, Maharashtra, Madhya Pradesh, Odisha, Uttar Pradesh and West Bengal -- affected by LWE.
BSNL would require Rs 1,469 crore (Rs 14.69 billion) as capex to set up 1,836 towers and Rs 1,577crore (Rs 15.77 billion) as operating expenses to manage the sites for five years.
So, the total outgo from the USO fund would be Rs 3,046 crore (Rs 30.46 billion).
Private operators admit they are not willing to take the risk of working in these areas.
COAI Director-General Rajan Mathews says: "Business cannot be done at the cost of the lives of employees.
"If BSNL can establish and manage these towers, we can always share the infrastructure to offer services. It's the government's responsibility to ensure connectivity in these areas."