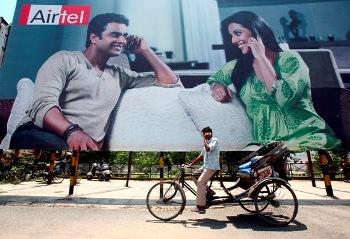 Telecom tribunal TDSAT on Tuesday directed Bharti Airtel to pay 50 per cent of the Rs 50 crore (Rs 500 million) penalty imposed by the Telecom Ministry in the matter of alleged violation of licence terms and conditions by the private operator for issuing bulk mobile connections.

Passing an interim order, the tribunal directed the country's largest telecom operator to pay 50 per cent of the Rs 50 crore penalty imposed by the DoT within a period of two weeks.

The Telecom Disputes Settlement and Appellate Tribunal said it would be in the interest of justice to direct the company to pay the sum, but underlined that it would not prejudice the hearing of a plea filed by Bharti Airtel against imposition of the penalty.

The tribunal's interim order came over a petition filed by Bharti Airtel challenging the penalty.

On September 19, the DoT had imposed a penalty on the telecom operator after it found that the company had issued 1,847 bulk mobile connections to Falcon Business Resource Pvt Ltd and 741
to Galaxy Rent, violating the terms and conditions of its licence agreement.
However, the penalty was stayed by the Telecom Disputes Settlement and Appellate Tribunal on October 5 till its further order on the plea of Airtel.
"In the meantime, the respondent (DoT) may not take coercive steps to implement the impugned order dated September 19, 2011," TDSAT had said while issuing the notice to the DoT.
During the proceedings, DoT had submitted before the tribunal that by issuing sim cards to the companies, which later transferred them to NRIs and foreigners, Airtel breached the security conditions of the licences.
It further submitted that the government suffered a loss in Adjusted Gross Revenue.
However, the charge was opposed by Bharti, which said the right AGR was paid by the company to the government.
The company had further said that the two firm selling sim cards were actually franchisees and were distributing them on behalf of Airtel.