Micromax that was once dismissed as a "Chinese phones supplier" is pitching itself as an upmarket, urban brand that comes at the right price.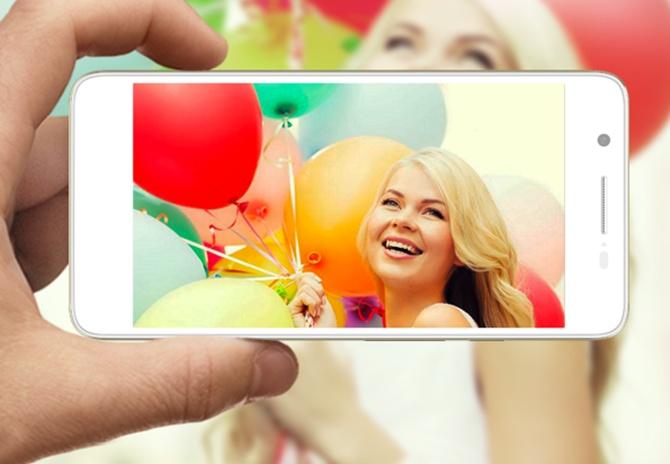 Image: Micromax's Canvas Hue. Photograph, courtesy: Micromax
It started life as a software and telecom supplier, moved to cheap mobile handsets and then low priced televisions.
Today, it features among the world's top ten smartphone brands, has close to 14 per cent of the mobile phones market in India and is second only to Samsung.
It also made it to the Gartner list of top ten global mobile brands for January to March 2015.
Micromax that was once dismissed as a "Chinese phones supplier" is pitching itself as an upmarket, urban brand that comes at the right price.
Its latest campaign created by Lowe Lintas Delhi starring Hugh Jackman conveys that.
It talks sleek looks and a sturdy body for the Canvas Sliver 5 and not about it being a homegrown, cheap and smart buy that its older ads for older phones used to do.
Rajesh Agarwal, co-founder, Micromax says that the company is focused on "value for money".
He said, "Our USP is not only pricing. We give value for money, best technical experience at a lower price. It is our mantra. We don't intend to be the cheapest player".
So what is the image the company seeks? It wants to be a global premium player and a brand that urban youth aspire for.
The latest campaign that was released across media is aimed at 'Sec A' consumers with a special film being released on Hotstar, Star India's mobile app.
With this product, it hopes to reach out to the high premium segment, which is distinctly different from all its other brands that are aimed at mid to premium segments.
Hugh Jackman was brought in as brand endorser because as Agarwal says the latest campaign is meant to enhance its image among the smartphone user.
Currently Micromax has 18 per cent market share of smart phones in India and smart devices contribute to 70 per cent of its sales and 55 per cent of its sales are from Tier-1 cities.
Since 2009, the company has broadened its user base and Delhi and Mumbai are among its strongest markets in terms of growth.
"We were strong in tier II and III cities from the start as we had very good distribution network", Agarwal said.
The company also wants to be known for its technological innovations. It has succeeded in the past because of "innovations like the long battery phones and dual sim (options)", says Agarwal.
And it wants to be seen as a company that offers the best products at the 'right price'. He calls this the 'upgradation strategy'.
It is not that the company is offering premium products cheap, but it is offering customers a chance to trade up by offering them the best within an affordable price range is how he puts it.
He adds, "The objective is democratisation of technology to the last mile", he says. It is not just mobiles that Micromax wants to be known for.
"We started with mobile but going forward we are going to be a complete electronics company consisting of all the verticals - consumer electronics, telecom, IT, internet-related devices etc.", Agarwal said.
It launched TVs in 2013 and now has close to eight per cent share of the LED TV market in the country.
The company now wants to consolidate its position in the Rs 8,000 price segment in the mobile market and in the sub-Rs 25,000 segment for television.
In television, Agarwal feels that the experience with the mobile handset market will come in handy. "When we got in to mobile business the situation was more difficult than this (TV) market since one player had, may be, 60-70 per cent share" he said. And here too the brand philosophy will be the same as in mobile phones.
"We are upgrading customers from 24 inches to 26, from 32 to 40 inches. It is an upgradation strategy rather than bringing the prices down", he added.
The television business today contributes 7 per cent to Micromax's revenue and it posted a 70 per cent growth last year.
The mobile business grew by 60 per cent last year. Micromax is also keen to establish its global credentials. It is present in Russia, Bangladesh, Nepal, Myanmar & Sri Lanka and plans to enter the American markets, Nigeria, South Africa and Indonesia soon.