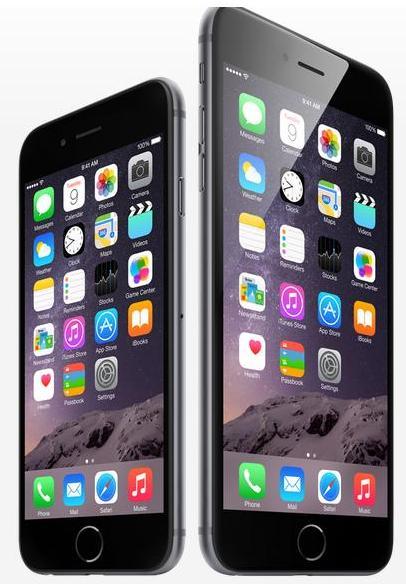 New Apple iPhones. Photograph: Kind courtesy: Apple

Apple Inc unveiled the 'Apple Watch' alongside two new iPhones with sharper and larger displays on Tuesday, calling the wearable device the next chapter in its history.

The first new product to be developed and introduced under Chief Executive Officer Tim Cook's reign is a wearable device tethered to the iPhone that will combine health and fitness tracking with communications.

Apple Watch will be available in early 2015 starting at $349 in US and will be compatible with iPhone 5, iPhone 5c, iPhone 5s, iPhone 6 or iPhone 6 Plus running the latest version of iOS 8.

Bernstein Research analyst Toni Sacconaghi estimated on Tuesday that if Apple were to sell 30 million watches at $250 each, it would add about $7.5 billion to its revenue.

"Other service providers are technologically weak in the market," Global Equities Research analyst Trip Chowdhry told Rediff.com about smartwatch launch.

He, who believes the rest of the wearable devices will disappear, said, "Apple Watch is ground breaking -- innovation is back at Apple after a 3-year pause."

Chowdhry wants Apple to learn from its iPhone mistakes, where it let Android to ruthlessly copy its innovations.

"Just like iPhone changed smart phone business, Apple's Watch is going to change the smart watch landscape," said Chowdhry.

He said he has seen the watch and that it's 'unique' and 'beautiful.'


Apple CEO Tim Cook speaks about the Apple Watch during an Apple event at the Flint Center in Cupertino, California, September 9, 2014. Photograph: Stephen Lam/Reuters

It will be available in three distinct collections -- black stainless steel case and a choice of straps; Apple Watch Sport, with a space gray or silver anodised aluminum case and Sport Band; and Apple Watch Edition, with an 18-karat rose or yellow gold case and a choice of straps exclusive to this collection.

The Sport Band will come in black as well as in blue, green, pink and white; the Classic Buckle in black and midnight blue; the Leather Loop in bright blue, light brown and stone; the Modern Buckle in midnight blue, brown, soft pink, rose gray and bright red; the Milanese Loop in stainless steel; and the Link Bracelet in brushed stainless steel and polished space black.

The Digital Crown on the side of the watch works as the home button and a convenient way to access Siri and the Retina display on Apple Watch features Force Touch, a technology that senses the difference between a tap and a press, providing a new way to quickly and easily access controls within apps.

Apple Watch also features Wi-Fi and Bluetooth 4.0 to pair seamlessly with iPhone, can located where you have parked your car.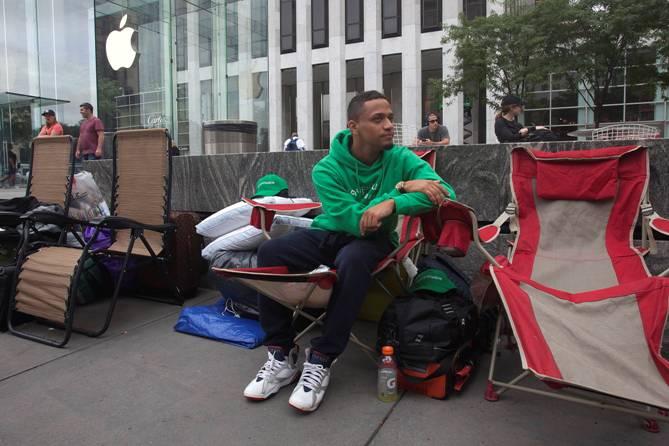 A man waits outside the Apple Store in advance of an Apple special event, in the Manhattan borough of New York September 9, 2014. Photograph: Carlo Allegri/Reuters

It offers the fitness app that tracks how long you were seated and could differentiate between cycling and running.

No wonder, Cook called it, 'a comprehensive health and fitness companion.'

The company also took the wraps off a larger, 4.7-inch iPhone 6 and 5.5-inch iPhone 6 Plus.

For iPhone 6 Plus, retail price for the 64GB model is $399 and $499 for the new 128GB model with a two-year contract.

The phones will be available in the US, Australia, Canada, France, Germany, Hong Kong, Japan, Puerto Rico, Singapore and the UK beginning Friday, September 19, and customers can pre-order both models beginning Friday, September 12.

They will support more than 200 telecom carriers worldwide, including all three in China -- a key growth market for the company.

Apple also introduced a new mobile payments service 'Apple Pay.'

Each phone will come equipped with its new payments service, which launches in the United States next month and will allow users to pay for items in stores with their phones instead of physically presenting their credit or debit cards.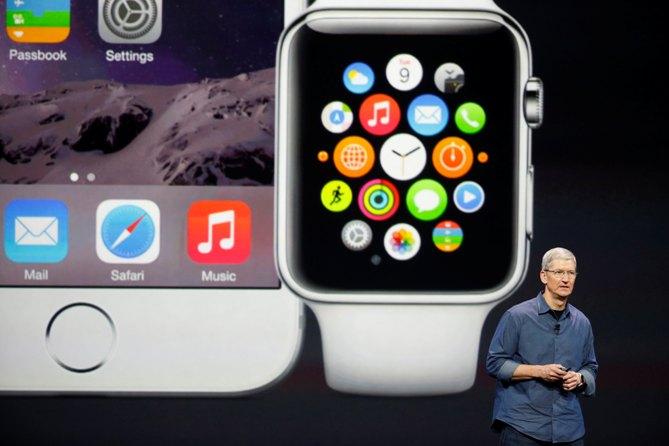 Apple CEO Tim Cook speaks about the Apple Watch during an Apple event at the Flint Center in Cupertino, California, September 9, 2014. Photograph: Stephen Lam/Reuters

All payment information is kept private, encrypted and stored securely in the Secure Element, a chip inside the new iPhones.

The payments are acceptable through American Express, Visa and Mastercard.

"Apple Pay is easy, secure, and private," said Eddy Cue, Apple's senior vice president of Internet software.

Explaining the payment feature, he said, "Apple Pay is more secure than keeping cards in a wallet.

"If you lose your iPhone, you won't have to cancel cards, simply use 'Find My iPhone' to suspend payments just for that device."

In a rare move for the company, Apple had planned on livecasting its event online, with a simultaneous translation in Chinese.

But the livestream went down for many users about a half-hour in, prompting many to take to Twitter to express their frustrations.

With inputs from Reuters