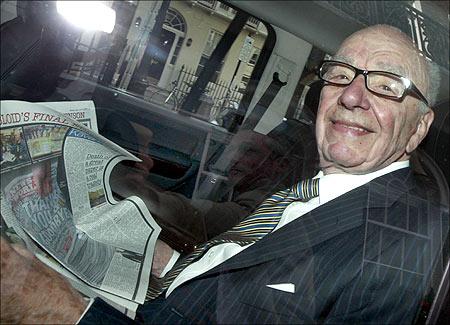 Media giant Ananda Bazaar Patrika is parting ways with the Rupert Murdoch-controlled STAR Group, after months of discontent over editorial and other strategic issues.

The two have been operating the news television venture Media Content Communications Services India Pvt Ltd over the past nine years.

According to highly placed sources in the know, ABP is set to buy out Murdoch and STAR's shareholding in the JV.  

MCCS, formed in March 2003, is a 74:26 joint venture between ABP TV and STAR News Broadcasting.

MCCS broadcasts three 24-hour news channels, STAR News in Hindi, STAR Ananda in Bengali and STAR Majha in Marathi.

"It's final now. The two legal teams are working out the details and the fine print will be clear very soon," said an official involved in the negotiations. 

Many are expecting a formal announcement -- at least internally -- on Monday.

The exact valuation and terms of the buyout are not clear. But, investment bankers say MCCS is a profit-making operation.

Many even expect a staggered payout.

ABP is likely to insist on a 12-18 month 'cool off' or non-compete period for STAR, before it can re-enter the news television space in India.

Sources say while the Bengali and Marathi news channels may be called Ananda and Majha TV respectively, with only the STAR moniker getting dropped, the national Hindi channel may get rechristened as Ananda Bazaar TV, reflecting the corporate branding of the group.

When contacted, Uday Shankar, CEO, STAR India Pvt Ltd (SIPL), said, "This is a closely held joint venture. I am not going to comment on market speculation."

Dipankar Das Purkayastha, managing director and CEO, ABP, however, denied any such developments, saying, "There is nothing in the horizon and I cannot comment on anything further."

An MCCS spokesperson said issues regarding shareholders could only be answered by ABP and STAR, while a STAR spokesperson declined to comment.

STAR, sources say, would have to get another domestic partner with a majority stake once the split is completed.

ABP sources say the group does not have any financial strain currently, so it can sustain 100 per cent shareholding on its own, but for branding, international content and other strategic benefits, a collaboration with a strategic partner can be expected in the near future.

Editorial control in the MCCS JV has been a sticky point for a while, but in the past year several other operational and management issues have aggravated the stress.

In a board meeting of MCCS in Mumbai in 2011, the differences came out in the open, which many felt, was a clear indication of the fate of the JV.

During that time, both STAR and ABP had even offered to buy the other partner out from the venture.

There have been others issues, too.

For example, ABP went ahead and independently launched a general entertainment channel, Sananda TV, to take on the popular STAR Jalsa in the Bangla GEC space.

That, apparently, did not go down well with STAR. ABP, too, was not very happy when last March, STAR India entered into an ad sales alliance with rival broadcaster NDTV for its three news channels.

Even though STAR has always maintained their NDTV alliance is restricted to sales and has nothing to do with editorial content, many have pointed out a conflict of interest.

STAR has a separate, dedicated team to market NDTV channels, but both MCCS and NDTV have competing Hindi news channels: STAR News and NDTV India.

Ever since the NDTV-STAR deal got announced, there has been speculation that this was a case of old partners joining hands again to forge a bigger, strategic association which may even lead to a equity tie-up in future. That would have meant a realignment of the MCCS-STAR JV.

Some even said ABP was not entirely kept in the loop while the negotiations between NDTV and STAR were getting crystallised.

During that time, ABP's Purkayastha had told Business Standard, "STAR has not spoken to us about any sales alliance with NDTV.

So, I cannot at this point comment on any conflicts." Prannoy Roy's NDTV was earlier supplying the entire news content to Murdoch's STAR News in India.

They split nine years ago in 2003, following which ABP's Sarkar brothers teamed up with STAR.

Reacting to the media sector buzz that it will only be a matter of time before STAR and NDTV again revive the partnership, NDTV officials told Business Standard that "they have a very good working relationship with STAR and nothing else is being contemplated at this moment".
Image: Rupert Murdoch | Photograph: Luke MacGregor/Reuters