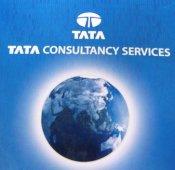 Software services exporter Tata Consultancy Services on Friday toppled state-owned ONGC to become the country's most valued company with its market capitalisation soaring to over Rs 2.38 lakh crore (Rs 2.38 trillion), driven by a spurt in share price.

During the afternoon trade, TCS commanded a market value of over Rs 2,38,223 crore (Rs 2,382.23 billion), the highest for any listed company in India.

This is about Rs 1,065 crore (Rs 10.65 billion) more than ONGC's market value of around Rs 2,37,158 crore (Rs 2,371.58 billion).

A sharp gain of 1.77 per cent in TCS's share price on Friday pushed the company to the
top slot.
In comparison, ONGC, was trading at Rs 277.20, almost flat compared to its previous closing price.
Market capitalisation of a listed company corresponds to the cumulative market price of all its shares.
This figure changes daily with the change in the stock price.
Reliance Industries with a market capitalisation of Rs 2.36 lakh crore (Rs 2.36 trillion) stood at the third position, followed by Coal India (Rs 2.23 lakh crore or Rs 2.23 trillion) and ITC (Rs 1.99 lakh crore or Rs 1.99 trillion).
Meanwhile, private sector lender HDFC Bank on Friday surpassed state-run SBI as the country's most valued bank with a total market valuation of about 1,37,500 crore (Rs 1,375 billion).
© Copyright 2022 PTI. All rights reserved. Republication or redistribution of PTI content, including by framing or similar means, is expressly prohibited without the prior written consent.