Only cash deposits of over Rs 250,000 in bank accounts will be scrutinised by the tax department and in case of mismatch with I-T returns, tax plus 200 per cent penalty would be levied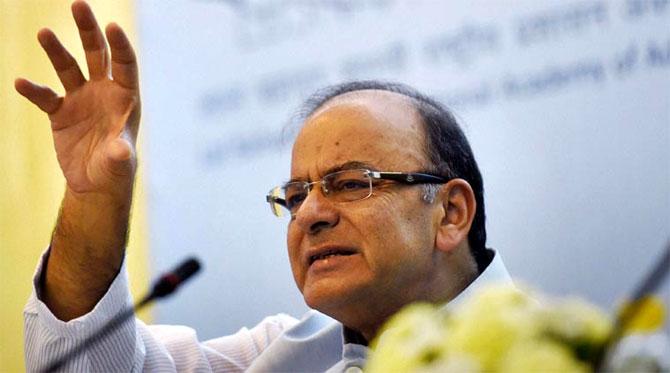 Assuring people that taxman will not hound those making small deposits in scrapped Rs 500/1,000 currency, Finance Minister Arun Jaitley, on Thursday, advised them not to throng banks as there is enough time to exchange the junked notes.
He said however that those depositing large amount of unaccounted money will have to face the consequences under tax laws, which provide for tax and a 200 per cent penalty.
"With regard to people making small deposits, nobody will face any question or harassment of any kind. People who have small amount of cash at home for exigencies and emergencies, they can deposit that in their account. And the revenue department is not going to take notice of small depositors," Jaitley said.
He added that deposits within the tax exempted limit can always be made within the banking system without any questions being asked.
"It's only people with large amounts of undisclosed monies who will have to face the consequences under the tax laws," Jaitley said at the Economic Editors' conference.
Revenue secretary Hasmukh Adhia said yesterday that only cash deposits of over Rs 2.5 lakh in bank accounts will be scrutinised by the tax department and in case of mismatch with I-T returns, tax plus 200 per cent penalty would be levied.
The government has allowed citizens to deposit in their bank accounts old currency of Rs 500 and Rs 1,000, which has been declared invalid in the country's biggest crackdown on black money, corruption and counterfeit notes, between November 10 and December 30.
On whether the demonetisation of Rs 500/1000 notes will help weed out black money, Jaitley said this is not an isolated initiative and the decision has to be seen in the backdrop
of various steps being taken including GST roll out.
"You will have the currency squeeze that will take place because a lot of static currency is not going to come back into the market. You have the GST which will be implemented, which is a far more effective system where tax evasion will be much lower and compliance will be much higher. You have parallel movement to rationalise your direct tax rate," he said.
Jaitley said the collective impact of these steps will act as a great disincentive for black money hoarders. "Whether that will be totally eliminated in future that I cannot say today, but certainly it would be disincentivised".
Observing that temporary hardship is no reason to perpetuate a system where black money prospers, he said people should be prepared for a "temporary short-term hardship in order to have a far cleaner and better system for the future".
He said RBI and banks are taking all steps necessary to ensure that minimum inconvenience is faced by people while trying to ensure that at the earliest, the requisite currency is available.
"We do believe that there is no need to rush in the initial days because people have a lot of time till December 30. Therefore, the more the deposits and exchange are spread out, the more will be the convenience to people itself," he said.
There will be a few days of inadequacies of currencies and some impact on local purchases, but in the medium and long run, the overall impact of the recent steps that we have taken on the economy will be positive, Jaitley said.
"In short run it (consumption) could (be affected). Eventually a very large part of this currency which is being removed was also lying static and therefore, once over the next few weeks replacement takes place, the current level of consumption will have to gradually come back," he said.
When asked banks' capital needs would come down with spurt in deposits, Jaitley said: "They will still need money for recapitalisation, but obviously the kind of resource available with the banks would increase".
Photograph: PTI Photo