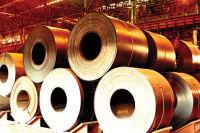 Tata Steel will sell its 51 per cent stake in group company Tata Refractories to Nippon Steel's associate Krosaki Harima Corporation for Rs. 576.3 crore (Rs. 5.763 billion) and induct the Japanese firm as a strategic partner.
"Under this arrangement, KHC will acquire 51 per cent equity stake out of Tata Steel's current 77.46 per cent stake in Tata Refractories," the leading Indian steelmaker said in a statement on Thursday. Both the companies have entered into definite agreements for the deal, it added.
Tata Steel will continue to hold 26.46 per cent stake in TRL - the largest domestic refractories manufacturer.
Tata Refractories has been valued at about Rs. 1,130 crore (Rs. 11.3 billion), the statement said.
Going by the valuation, Tata Steel would get Rs. 5,76.3 crore (Rs. 5.763 billion) by selling 51 per cent stake in TRL.
"I am happy with this association with Krosaki Harima and I am sure this partnership will propel the business to greater heights in future," Tata Steel Managing Director Hemant Nerurkar said.
KHC Representative Director and President, Yasuo Hamamoto said: "We are delighted
that we will be managing TRL in close association with Tata Steel. This partnership is a big honour for us and we will put our best efforts to develop TRL in future."
Bringing in KHC as strategic partner will bring technical expertise into the Tata Refractories and would give it access to new markets, the statement added.
Krosaki Harima Corp is a leading global refractories maker and its 42.9 per cent equity is owned by Nippon Steel.
The company, listed on the stock exchanges at Tokyo and Fukuoka, had a sales of 82,874 million Japanese yen as on March 31, 2010.
On the other hand, Tata Refractories is the largest refractories manufacturer in India and meets the requirement of industries like steel, glass, cement, non-ferrous and petro-chemicals.
Its refractories works at Belpahar, Orissa, is considered to be the largest among all single refractory producing units in the world.
According to industry estimates, TRL has an annual production capacity of 3.4 lakh tonnes.
The company also has a manufacturing unit in China.
Scrips of Tata Steel were trading at Rs. 628.65 a piece on the Bombay Stock Exchange at 1400 hours, up 0.58 per cent from the previous close.