Siva group defaulted on payment in 2016 and is also facing CBI investigation
Tata Sons has made a claim of Rs 6.99 billion, with interest and costs, against C Sivasankaran and his company Siva Industries and Holdings, in a detailed statement of claim on April 16, say sources.
A Supreme Court (SC) order in January allowed the Tatas' petition and appointed former SC judge S N Variava the sole arbitrator on the dispute.
The Chennai-based Sivasankaran group, facing a Central Bureau of India (CBI) investigation for alleged defaulting on a Rs 700 crore bank loan, also owes around Rs 1,000 crore, including costs and interest, to two Tata Group companies.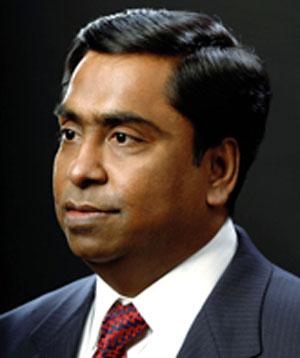 The Siva group defaulted on its payment to Tata Sons in 2016 for its share in acquisition of a stake from Japanese telecom major NTT Docomo in Tata Teleservices (TTSL).
This led to Tata Sons paying the money to Docomo from its own pocket and then making a claim against the Siva group.
This amount was later written off by Tata Sons as the Siva group did not honour its commitment.
In September 2016, Tata Sons began legal action against Sivasankaran to recover the amounts due, to which the latter replied alleging oppression and mismanagement.
On June 15, 2017, Tata Sons sent an arbitration notice to Sivasankaran, who didn't nominate an arbitrator as required under the agreement.
Consequently, on July 31, 2017, Tata Sons filed a petition in the SC for the constitution of an arbitral tribunal, which Siva contested.
The first preliminary meeting was held on March 21, when the schedule for further proceedings was fixed, and Tata Sons filed its detailed statement of claim on April 16 for Rs 699 crore, with interest and costs.
The arbitration is likely to conclude in the next 12 months, said sources.
In a separate proceeding, sources said Tata Capital Financial Services also initiated legal action to recover an outstanding claim of Rs 334 crore from Siva Industries and C Sivasankaran.
This claim too relates to a 2012 loan of Rs 200 crore to Siva Industries, secured against equity shares of TTSL held by Siva Industries.
Siva Industries defaulted on this loan and finally a settlement followed into in June 2014, under which the pledged shares were acquired by Tata Capital, with a put option to sell those shares back to Siva Industries after three years at a pre-agreed price.
Sources said while Sivasankaran had personally guaranteed obligations of Siva Industries, the latter defaulted on its obligation in May 2017, when the put option became due.
In June 2017, Tata Capital invoked Sivasankaran's guarantee but he too failed to honour his commitment. Following pre-arbitration attempts to resolve the dispute in accordance with the dispute resolution clause of the agreement, Tata Capital invoked arbitration and sent out an arbitration notice to both Siva Industries and Sivasankaran in October 2017.
However, Siva failed to nominate an arbitrator as required and Tata Capital petitioned the SC for constituting the tribunal in November 2017.
Sources said the arbitration proceedings in this matter will commence soon.
Tata Sons and the C Sivasakaran group did not reply to e-mails seeking comment.
Sivasankaran is currently not in India.
At present, Sivasankaran is also undergoing investigation for default on loans from IDBI Bank.
In October 2010, the bank had sanctioned Rs 320 crore in loans to WinWinD Oy.
The firm later applied for bankruptcy in Finland, due to which the loan was declared a non-performing asset.
Despite the default, IDBI Bank in 2014 sanctioned another loan of Rs 523 crore to Axcel Sunshine.
Allegedly, the loans were used to repay loans of Win Wind Oy in violation of the Reserve Bank of India norms.
For the loans from IDBI Bank, the Siva group had used the shares of Tata Teleservices as collateral.
The business dealings between Sivasankaran, a friend of group patriarch Ratan Tata, and the Tata group dates back to 2006, when the Siva group invested Rs 884 crore in TTSL equity via a preferential allotment of shares.