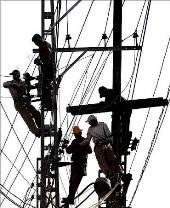 Next week's public hearing on Tata Power's proposal to convert its 500 Mw unit at Trombay in this metropolis' northeast to coal-based from oil and gas is expected to be stormy.

The Maharashtra Pollution Control Board has scheduled the hearing on January 15.

Political parties and environment experts have expressed reservations on the company's move.

The ruling Congress and Nationalist Congress Party, and the opposition Bharatiya Janata Party, have said they'd present their stand during the hearing.

The Shiv Sena has openly opposed the proposal, saying it would further pollute the city, create health problems and mean a rise in power supply rates.

Tata Power says adequate measures have been taken to protect the environment and the proposed modernisation, of unit 6, would provide relief to consumers on power rates.

The per-unit cost of electricity is estimated, it says, to come down to Rs 4.48 in 2015-16, while the cost due to oil and spot gas pushes the present generation cost higher than Rs 8.50 a unit.

Environmentalist Debi Goenka termed the move a retrograde one.

He told Business Standard: "Globally, when alternative energy source-based power projects are being considered, Tata Power is converting unit 6 to coal.

"Its transportation and use will damage the environment and consumers will also have to bear an additional tariff (rate) burden, as Tata Power has proposed an investment of Rs 1,174 crore (Rs 11.74 billion)
in converting the unit."
Subhash Desai, the Shiv Sena head in the state legislative assembly, said his party was opposed.
"Why is Tata Power going for a coal-based unit when alternative sources are being explored in various countries? Already, those residing in the vicinity of the Trombay plant are facing serious health problems," he said.
He also questioned the environment impact assessment study being done by one of the Tata Group companies. "We will raise this during the hearing," he said.
Tata Power says the unit's modernisation would not result in any additional pollution/emission in neighbouring areas.
More, no additional water or any other resource was being sought to operate the moderniwed plant.
"At the Trombay station, environment management is one of the key focus areas.
"This is ensured through emission controls, fuel controls, efficiency and heat rate improvement, and stringent monitoring of ambient air quality.
"A flue gas desulphurisation plant will reduce sulphur dioxide emissions in flue gases," said the company spokesman.
The change, says the company, will ensure higher availability of reliable power supply for the city.
The reduction in fuel cost -- coal is cheaper than oil -- will bring down the rates of supply.
The present generation cost is at least Rs 8.50 a unit; this should fall to Rs 4.48 a unit by 2015-16.
This financial benefit will be fully passed on to city consumers, it has said.