Tata Motors plans to set up separate sales network for its electric passenger vehicles in current fiscal year as it looks to give differentiated experience to the buyers opting for the environment-friendly models, according to a top company official.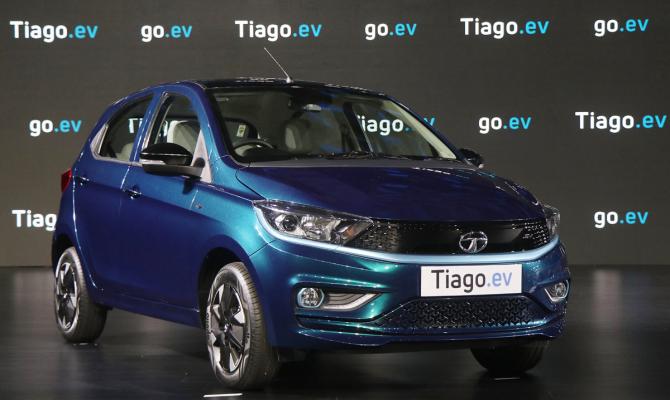 The Mumbai-based auto major, which on Thursday introduced all-new versions of its Nexon EV and Nexon (internal combustion engine), said it will start experimenting with new outlets in some of the cities where EV volumes have gone up.
"We'll have to separate them (sales outlets for EVs and ICE) given that we have different requirements of customers and also a growing portfolio (of EVs)" Tata Motors Passenger Vehicles managing director Shailesh Chandra told PTI in an interaction.
He said the company would look at places where it would be viable to have exclusive outlets for the EV range.
"We need to separate outlets because there would not be enough space to keep both EVs, ICE models at the same place..So there's a practical difficulty... we will not be able to do justice to both.
"So you will start seeing exclusive outlets starting slowly from the coming quarters," Chandra stated.
Tata Motors' current EV portfolio comprises the flagship SUV Nexon EV range, Tiago EV, Tigor EV and the XPRES-T EV.
When asked about the locations where the exclusive outlets would come up, Chandra said: "We'll start with pilot cities. I can't disclose the locations right now.
"But as I said that within this financial year, we'll start with some experiment."
The company recently introduced the new retail identity for its unit Tata Passenger Electric Mobility.
Tata Motors utilises the shop-in-shop concept in its existing dealerships to retail EV models.
Chandra said the demand for EVs is witnessing an upward trend and for Tata Motors, the EV range accounts for 13-15 per cent of the company's overall sales.
"Next three to four years, I would imagine this to go up to 25 per cent," he added.
Tata Motors expects electric vehicles to account for half of its passenger vehicle sales by 2030, Chandra said.
The new Nexon.ev is priced between Rs 14.74-19.94 lakh (ex-showroom). It comes with a maximum range of 465 km in a single charge.
The model can charge another compatible EV and can also power external gadgets, appliances such as electrical camping equipment, power tools and a variety of consumer electronics devices.
Chandra stated that EV customers constitute a unique community that is fast growing and distinguished by their evolved choices and hunger for next-gen technology.
"The Nexon.ev aptly fulfils their evolving, astute preferences with a technologically advanced, on-the-move solution that seamlessly blends with their contemporary way of life," he added.
The company also introduced the Nexon with petrol and diesel engines with introductory prices starting from Rs 8.09 lakh (ex-showroom).
Chandra said the compact SUV segment, in which Nexon competes with the likes of Maruti Brezza, Hyundai Venue, Kia Sonet, has grown very steeply over the years.
"When we had launched Nexon in 2017, this segment used to see sales of 30,000 units a month, today it has grown to 90,000 units a month," he noted.
This is the most intensely fought segment as well with all the leading players having a product in the market, Chandra said.
Tata Motors has sold 5.5 lakh units of Nexon so far in the country.
"We are confident that this new avatar of the Nexon will appeal to a wider audience of customers, cement its position as India's best selling SUV and further enrich its legacy," Chandra stated.
The new generation Nexon comes with six airbags as standard fitment among other features.