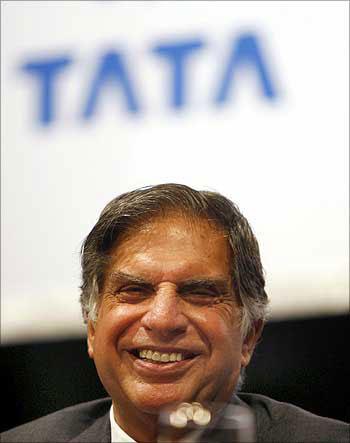 Ratan Tata on Wednesday said FIPB clearance to the airline venture between Malaysia's AirAsia, Tatas and another company reflects the Indian government's "true investor friendly policies" and such actions will reinforce confidence in the country.
"FIPB approval of the airline project between Tatas, AirAsia and Bhatias reflects the true investor friendly policies of the government," tweeted the Chairman Emeritus of Tata Sons.
"This and other similar actions will, without doubt, reinforce investor confidence in India," he said. "I applaud the government for its transparency and its principled implementation of the stated policy," he added.
AirAsia has decided to set up a 49:30:21 joint venture with the Tata Sons and Telestra Tradeplace of Indian investor Arun Bhatia to launch a new Indian airline.
The Foreign Investment Promotion Board (FIPB), headed by Department of Economic Affairs Secretary Arvind Mayaram, approved the proposal at its meeting.
The new venture will mark the return of the Tatas to the aviation sector. State-owned Air India had grown out of Tata Airlines, which began flights in 1932.
A senior government official said the initial investment by the AirAsia-led joint venture would be Rs 80 crore.
With the FIPB clearance, the AirAsia joint venture will now have to approach aviation regulator Directorate General of Civil Aviation for further clearances and a scheduled air operator's permit which allows an airline to undertake flying operations.
AirAsia is looking to start flying from this year-end with 3-4 planes and will be headquartered in Chennai. It will focus on providing domestic connectivity to Tier-II and Tier-III cities.
The AirAsia joint venture will be the first entry of a foreign carrier in the domestic aviation sector after the liberalisation of FDI policy in September last year.
© Copyright 2022 PTI. All rights reserved. Republication or redistribution of PTI content, including by framing or similar means, is expressly prohibited without the prior written consent.