After Palaniswami took over as chief minister in February 2017, cumulative FDI rose by Rs 46,427 crore from Rs 133 trillion (April 2000 to March 2017) to Rs 180 trillion by June this year.
Illustration: Dominic Xavier/Rediff.com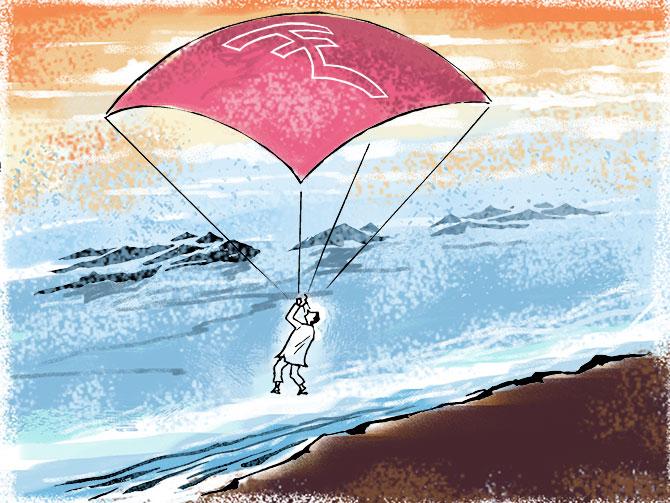 At a time when investors are taking a "wait and watch" approach on fresh investment, Tamil Nadu in the past 10 months has signed 63 MoUs, enabling investment worth Rs 19,083 crore.
For a state that has seen political uncertainty after the death of J Jayalalithaa three years ago, this could well be defined as the Chief Minister K Palaniswami-led government regaining that confidence.
"Industry was forced to look at different options (giving away money) to get things done in the past.
"But today, things are much better because bureaucrats are actively involved in decision making," said a multinational firm, which invested crores and is planning to invest nearly a $1 billion.
The numbers support him. After Palaniswami took over as chief minister in February 2017, cumulative foreign direct investment (FDI) rose by Rs 46,427 crore from Rs 133 trillion (April 2000 to March 2017) to Rs 180 trillion by June this year.
However, the state slipped to fourth position from third.
Government officials say that the numbers could be higher because some companies have their manufacturing base in the state but head offices in Delhi, and the amount will show on the latter's account.
Ramkumar Ramamoorthy, president, Madras Chamber of Comm-erce and Industry, said over the past couple of years "we have seen the government machinery in Tamil Nadu being turbo-charged to attract investment".
"Starting from the chief minister himself, the political leadership has made itself accessible, has demonstrated openness to listen to and seek inputs from industry and chambers of commerce for improving the ease of doing business," he said.
During the Global Investors' meeting this year, the government signed MoUs worth Rs 3 trillion.
State Industries Minister M C Sampath says of the 304 firms, 221 have commenced projects.
Thanks to the Tamil Nadu Business Facilitation Act, 2018, and the single window for applying and getting clearance for doing business, the ease of business issue has been addressed.
It ensured the application had to be moved at a certain pace from table to table and if any official held up the file for no reason and was not cleared within the stipulated time, the application was deemed approved.
Availability of skilled labour, no labour unrest, surplus power, and good infrastructure are additional factors in attracting investors, says Palaniswami.
An industrialist said while there was no labour unrest in Tamil Nadu, acquiring land and getting clearances remained a nightmare.
Responding to this, a government official listed the recent initiatives, which would address issues raised by industry.
A high-powered committee for investment facilitation and single-window clearance has been constituted with the chief minister as chairman.
An integrated web-based online single-window portal has been launched to enable industry to obtain clearances and renewals of 11 departments/agencies.
Through this portal, 37 services of various departments are available to investors without any human interface.
This is being expanded to cover 54 services.
"In six months, we should be ready with the new portal," said N Muruganandam, principal secretary (industries department), who has built a team with sector-specific responsibilities and country-specific supports assigned to one official each.
"This move will help the state improve its investment environment," said Rituparna Majumder, senior economist and fellow, Frost & Sullivan.
At the National Council of Applied and Economic Research's (NCAER's) 2018 State Investment Potential Index (N-SIPI) on governance and political stability, Tamil Nadu topped the table.
Palaniswami has taken these messages to investors overseas. His three-nation trip to the US, the UK, and West Asia in September garnered Rs 8,835 crore.
His next trip will be to Israel.
Way forward
"We are renewing our efforts to increase exports from Tamil Nadu by constituting a high-level committee under the chief secretary," said the chief minister, who recently launched the BIZ BUDDY portal, a grievance redress mechanism for industry.
K Shanmugam, chief secretary, Tamil Nadu, says today the primary sector contributes around 12.71 per cent of the state's economy, while industry accounts for 35.56 per cent, and services around 52.18.
"Our vision is to increase industry's contribution to above 40 per cent," he said.
Industry urged the state to address issues related to labour laws and eradicate corruption.