Shut for fifteen months post-the terrorist attacks of November 26, 2008, the legendary ballroom of The Taj Mahal Palace and Tower will re-open on Tuesday, marking a new chapter in its history.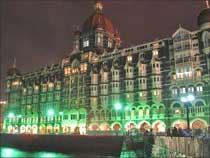 The ballroom in the Heritage Wing of the hotel, known for its intricate design and architecture, was completely devastated in the 26/11 terrorist attacks.
It was mostly used for corporate parties, meets, weddings and receptions.
"We are excited about throwing open the doors of the ballroom to the sounds of parties, weddings, corporate meets and receptions once again. It is a fitting beginning to a new chapter in the history of the Palace wing of the hotel. We are delighted to invite our guests, old and new, back to create their special memorable occasions at this venue," Taj Mahal Palace and Tower's general manager, Karambir Singh Kang, said in a statement in Mumbai.
Kang, whose wife and two minor sons were killed in the terror attacks, has since then been continuously supervising the restoration process of the hotel.
Against the backdrop of the Arabian Sea and the Gateway of India, the regal Ballroom has always been the quintessential venue for historic events and legendary celebrations.
Bathed in rich hues of gold and decorated with antique crystal chandeliers, the Ballroom was restored by Kuala Lumpur-based LTW Design-works that studied the original architecture of the room closely and incorporated the original style.
Corinthian capitals on gold polished columns, vaulted ceilings and state-of-the-art audio visual requirements and graceful arches and scalloped pillars give the room a Victorian elegance.
The Ballroom has also been fitted with the latest technological gadgets, which makes it a perfect amalgam of the classic and the contemporary.
While Grand Executive Chef, Hemant Oberoi, and his team will oversee and orchestrate the cuisine for events to be held at the ballroom, a team of banquet planners and hospitality personnel will make certain that every occasion is managed with their personal involvement and clockwork precision, the statement said.