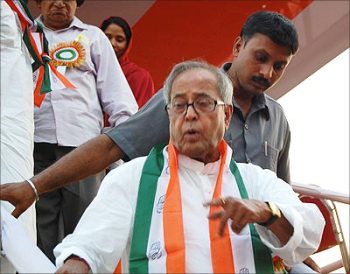 Government said on Tuesday the pact with Switzerland to get details on illicit wealth stashed in Swiss banks would be applicable only for prospective information and not for incidents of the past.
"The new provision will be applicable only for prospective information and not for past information," Finance Minister Pranab Mukherjee told the Lok Sabha in a statement on signing of Protocol with Switzerland to amend the existing Double Taxation Avoidance Agreement.
Mukherjee and Swiss Foreign Minister Micheline Calmy-Rey signed the revised pact in New Delhi on Monday.
To senior Bharatiya Janata Party leader L K Advani's query on getting details on illicit money from Swiss banks, Mukherjee said the Swiss banks do not give any information on banking transactions.
"I would like to make it quite clear that as far as Swiss laws are concerned they don't give any information of their banking transactions," he said.
Mukherjee noted that the only exception they made was in 1945 regarding the assets of Nazi rulers during the trial against them.
To a query by Gurudas Dasgupta of Communist Party of India on the prospective application of the Protocol, he said, "Please remember that this is an agreement between two sovereign countries. They are not subordinate to us. Therefore, we shall have to agree to whatever concessions we get."
Mukherjee said under the current DTAA India was not able to obtain banking information from Switzerland.
"The protocol now seeks to amend the Article to enable exchange of such information," Mukherjee said.
Information which is relevant for carrying out the provisions of this agreement or to the administration or enforcement of the domestic laws concerning taxes can be exchanged under the DTAA, he said.
The earlier pact allowed use of such banking information to be used for tax purposes only, he said adding that sharing of details with Enforcement Directorate or even Parliament was not prohibited.
"However, the new article also provides for use of information by such other purposes which are allowed under the laws of both states and the competent authority of the supplying state authorises such use," Mukherjee said.
He said that a specific provision in the Protocol also ensures that information will be exchanged even if there was no domestic interest.
"There is a specific provision for providing banking and ownership information," he said.
More members wanted to speak on the issue but Mukherjee, who is also the Leader of the House, said the matter could be discussed in the next session of Parliament.