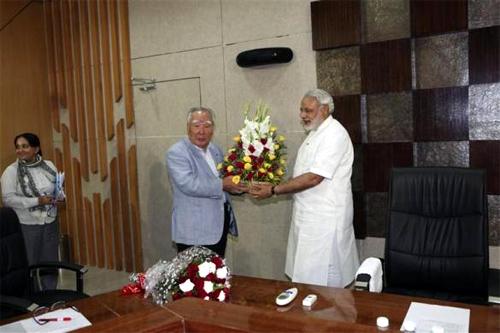 Suzuki Motor Corp's 85-year-old CEO Osamu Suzuki named his eldest son as the new president of Japan's fourth-biggest automaker, easing investor concerns over the firm's succession plan and boosting the company's shares by more than 5 percent.
Executive Vice President Toshihiro Suzuki took over the role from his father as president and chief operating officer effective Tuesday. Osamu Suzuki remained as CEO and chairman.
Suzuki Motor on Tuesday also laid out financial targets under a new five-year business plan, including a goal to raise revenue to a record in the year ending March 2020.
Osamu Suzuki has helmed the Japanese automaker since 1978, and the question of who would succeed him, and when, has been one of the biggest issues confronting the automaker.
Suzuki had previously attempted to groom his son-in-law Hirotaka Ono to succeed him, but that plan was derailed when Ono died of pancreatic cancer in 2007.
Two other executives had briefly held the post of president in the 2000s. Both resigned after a few years, citing health reasons.
Toshihiro Suzuki, 56, was named one of Suzuki Motor's four executive vice presidents in 2011, raising speculation that he would eventually take the top post.
Before joining Suzuki Motor in 1994, he had worked at the company that became Denso Corp.
Fellow Executive Vice President Yasuhito Harayama will become vice chairman, Suzuki Motor said in a statement.
Harayama, a former bureaucrat at the Ministry of Economy, Trade and Industry, was hired by the elder Suzuki to oversee the automaker's dealings with Volkswagen AG, with which it formed a capital tie-up in 2009.
Suzuki Motor is now trying to dismantle those ties by buying back the 19.9 percent stake held by the German giant in an international arbitration court after the partners fell out.
Shares in Suzuki Motor rose as much as 5.5 percent after news of the management changes, before ending up 2.7 percent.
After the market closed, Suzuki also announced new financial targets, saying it aimed to boost sales to 3.4 million vehicles in the year through March 2020.
It is also targeting record revenue of 3.7 trillion yen ($30.24 billion) in the same year, versus 3.1 trillion yen projected for the current business year.
Osamu Suzuki, born Osamu Matsuda, joined the automaker in 1958 after marrying into the family. During his nearly four decades at the helm, Suzuki has turned the loom maker founded by his wife's grandfather into one of the world's biggest automakers, famously blazing the trail into the Indian market in the early 1980s.
Suzuki, through its local subsidiary Maruti Suzuki India Ltd , is the top-selling automaker in India and has a market capitalisation of 2.24 trillion yen ($18.3 billion), roughly equal to that of Fiat Chrysler Automobiles.

($1 = 122.3500 yen)