Prime Minister (PM) Narendra Modi has been at the forefront of climate action and saving the environment campaigns — whether plogging at a beach in Mahabalipuram in 2019 or wearing a sky-blue 'sadri' jacket to Parliament made of material recycled from plastic bottles.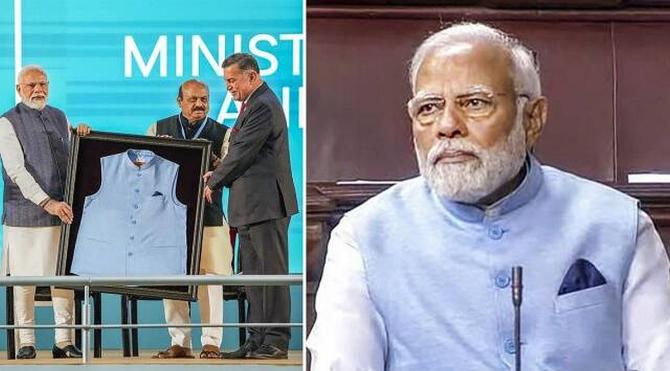 Made by Karur-based sustainable fashion brand EcoLine Clothing (EcoLine), a brand of Shree Renga Polymers, front runner in polyethylene terephthalate (PET) bottle recycling and sustainable textiles in India run by IITians, the company recycles PET bottles and upcycles them into value-added products, such as garments.
Three months on, the phone lines of Senthil Sankar, managing partner at Shree Renga Polymers and EcoLine, have been ringing non-stop since the jacket made out of recycled plastic at Karur, Tamil Nadu's textile capital, was worn by the PM to Parliament on February 8.
Senthil says around 20-28 bottles were used to make the jacket that retails for Rs 2,000.
Shree Renga Polymers, the company that owns EcoLine, is all set to raise its capacity twofold, from recycling 1.5 million PET bottles per day to 4.5 million bottles per day.
Shree Renga Polymers is likely to invest Rs 250 crore over the next five years, of which Rs 100 crore will be towards the expansion of units; the remainder Rs 150 crore will be for marketing blitz.
This is the first company in India with end-to-end capabilities in the sector, starting from recycling and making yarn and fibre to value-added finished products.
"With the PM wearing our jacket, we are seeing a rapid rise in queries.
"We are getting queries from all the Group of Twenty countries, West Asia, and Europe and are in the process of expanding our presence to these countries," says Sankar.
Because of a rise in queries after the PM's tacit endorsement, 10 per cent of which are getting translated into orders, the company is in the process of expanding its manufacturing footprint.
"At present, we are sourcing 1,000 tonnes per month and recycle nearly 1.5 million bottles every day.
"In some years, this will become 3,000 tonnes per month and 4.5 million bottles," he adds.
According to the industry benchmark, it requires an investment of Rs 120 crore to create an entire ecosystem for 1,000 tonne per month of recycling.
"We are only available online. The company has warehouses in Delhi, Bengaluru, Chennai, Dubai, and one in the US," says Sankar.
From trash to treasure
As part of the procedure, bottles are gathered and sorted, and their caps and labels removed.
They are then crushed, cleaned, and recycled in a 10-step process to clean the hot-wash flakes.
These flakes are then heated and woven into polyester staple fibre.
This fibre is spun into yarn.
Yarn is knitted/woven into polyester fabric, and fabric becomes garment.
The company claims that 90 per cent of its products cost less than $10 and it takes six bottles to create a T-shirt.
Although Shree Renga Polymers started operations in 2008, EcoLine was launched only in 2020.