Airlines in the country are expected to cut down their losses in the third quarter of this financial year, thanks to a consistent increase in passenger numbers and the consequent surge in yields.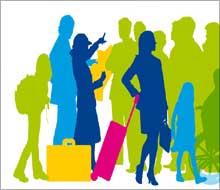 The passenger numbers in the third quarter were up by over 25 per cent compared to the same quarter last year. The passenger numbers rose by 26 per cent in October, 30 per cent in November and are set to rise by around 30 per cent in December, according to industry estimates.
"With the rise in passenger numbers, our bad times seem to be getting over. As yields are directly proportional to passenger numbers, our yields are up by 25 per cent and we are set to see good quarterly figures," said Paramount Airways managing director M Thiagarajan.
The airlines have also been successful in bringing down their costs by 12 per cent. "The industry is seeing such growth in load, and also yields, only after around five years. This clearly is a sign of turnaround. The operational cost of the airlines has also come down by 12 per cent due to some efficiency enhancement measures," said IDFC-SSKI managing director Nikhil Vora.
The aviation turbine fuel price, which constitutes 40 per cent of an airline's operational cost, is also less than it was in the same quarter last year.
The three listed airlines in India made an accumulated loss of Rs 860 crore (Rs 8.6 billion) in the third quarter of the last financial year. Kingfisher Airlines losses were at Rs 626 crore, (Rs 6.26 billion) Jet was at Rs 214 crore (Rs 2.14 billion) and SpiceJet incurred a loss of Rs 17.96 crore (Rs 179.6 million). Annual losses of these airlines in 2008-09 were at Rs 3,000 crore (Rs 30 billion).
Industry analysts feel that the bad times for the airlines are over and they will continue to grow in the coming months. "The passenger numbers for January are also looking the same as December, which is huge as December is a peak-season month," said Bhawna Agarwal, head of online sales at yatra.com, an online travel portal.
Some even say that the airlines will make profit in the second quarter of the next financial year. "This good mood will continue and by the second quarter of the next financial year, all the private airlines will be able to make profit," said Vora.
Others also see a threat to the growth if the crude prices rise or the airlines increase capacity. "The growth in the passenger numbers has been decent ...but what needs to be under control is the crude price and increase in capacity by the airlines," said Mahantesh Sabard, senior analyst at Centrum, a financial services firm.