Indian tours have seen an upswing partly because Nepal packages have been cancelled after the recent earthquake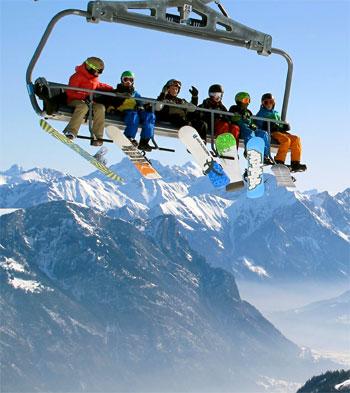 Tour companies have witnessed 20-25 per cent growth in domestic and foreign bookings in summer as holiday-goers are exploring newer destinations and taking advantage of exchange rate gains to travel to Europe.
Domestic tours have seen an upswing partly because Nepal packages have been cancelled after the recent earthquake.
Tour operator Thomas Cook said bookings for domestic and outbound tours are up 20 and 26 per cent, respectively. Prices of foreign tours are lower by five-seven per cent compared with 2014 and this has boosted bookings for long-haul destinations.
"The fluctuating euro has worked very well in our favour," said Jatinder Paul Singh, senior vice-president (outbound travel-leisure), Thomas Cook, "and we are seeing significant surge in our bookings to Europe."
Switzerland Tourism is expecting 10 per cent growth in arrivals from India in summer. Contrary to fears, there has been no adverse impact on bookings because of a strong Swiss franc.
"In last April-May, outbound travel did not experience growth because of the general elections. Now are seeing a growth of about 10 per cent compared to last summer," said Ritu Sharma, deputy director of Swiss Tourism. "Since the start of the year, we saw a rise in FIT travel (individual or small group travel) from India and we are witnessing tourists opting for adventure packages like paragliding at Interlaken or add-on components like helicopter ride to Jungfrau."
Earlier this year, the tourism department of Switzerland had held a roadshow in India. Other countries, too, have stepped up such efforts. Tourism Britain roped in actor Saif Ali Khan as its brand ambassador and Hong Kong Tourism launched a marketing campaign in April.
Sanjeev Advani, director of sales and marketing, Sofitel Mumbai BKC, said, "With the onset of the summer season, we have not only seen enhanced occupancy levels but also a rise in the average daily rate. Our present average room rate is on a par with other luxury hotel competitors and our RevPar has actually been performing better than expected."
Online portal Expedia said about 55 per cent of travellers are opting for off-beat destinations against 30 per cent last year.
"We have seen a rise in inquiries for niche destinations in South East Asia," said Vikram Malhi, MD-Asia, Expedia.
Madhav Oza, director of Blue Star Air Travel Services, said: "There is a growth of 20-25 per cent in domestic travel with Kashmir, Himachal Pradesh and Andaman & Nicobar Islands emerging as popular destinations. Nepal tourism has come to a standstill. Customers whose Nepal trips were cancelled have booked domestic tours or short-haul trips to Bangkok or Singapore."
A survey by online portal MakeMyTrip on hotel booking trends reveals that Goa, Jaipur and Ooty are among the most popular summer destinations. Lesser known attractions like Landsdowne, Khajjar (near Dalhousie), Yelagiri (Tamil Nadu) and Ganpatipule have gained the most in bookings due to online listings, MakeMyTrip said.
Time to travel
Tour companies have witnessed 20-25 per cent growth in domestic and foreign bookings
Prices of foreign tours have fallen 5-7 per cent compared with 2014
Switzerland tourism is expecting 10 per cent growth in arrivals from India in summer