Armed with deep customer knowledge, low operational overheads, new funding opportunities and help from online marketplaces, the local brand is turning David to every Goliath that steps into its neighbourhood, says T E Narasimhan.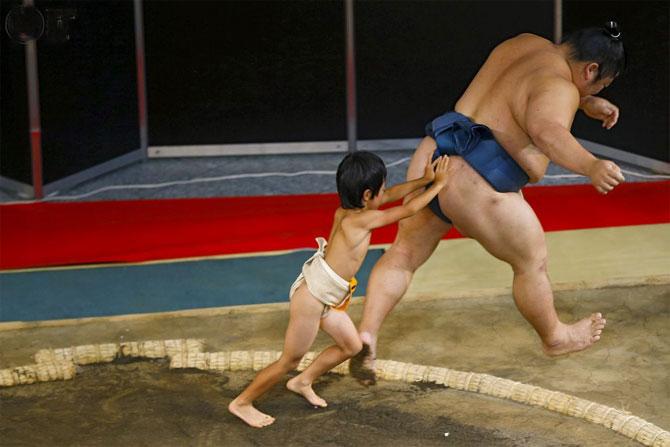 David versus Goliath! From oil to cola, business giants are humbled by smaller challengers. A boy pushes a sumo wrestler out of the ring in a mock competition. Photograph: Thomas Peter/Reuters.
Chances are that very few have heard of Gold Winner Oil or Raja Biscuits or Bovonto cola outside a few select states.
But ask the multinationals and the big national brands working their way into the Indian heartland as they go all out to expand the brand footprint and these are the names that are giving their marketing experts sleepless nights.
Armed with deep customer knowledge, low operational overheads, new funding opportunities and help from online marketplaces, the local brand is turning David to every Goliath that steps into its neighbourhood.
G Munuswamy the man who built the Gold Winner brand started out as an edible oils trader. In 1991, he acquired a sick oil refinery and set up his manufacturing base in Chennai.
Today he competes with Fortune from Adani Wilmar, Sundrop from Agro Tech, Saffola from Marico and others. Gold Winner's brand footprint in urban India has been steadily going up according to IMRB, from 11 per cent in 2012, it was 14 per cent in 2016.
A former employee, who worked with the company for over two decades, says that the brand was the first to introduce packaged oil at affordable prices in the local market. It competed with loose oil that customers had to carry back in containers they would bring with them.
They switched, given the convenience of packaged oil at the same price point. Over the past few years, the 'Gold Winner for Health or simply G for H' campaign has popularised the brand further.
The founder-owner's deep links with the oil trading community has led to a strong and well-knit distribution network. The employee adds that it doesn't matter how big the retail shop is or how much it orders, the company ensures availability.
The story of the Gold Winner brand has become a case study in marketing circles, but it is not the only one.
A recent report by WPP and Kantar Millward Brown showed that while the valuation of Top 50 Brands in India rose by 30 per cent over three years, that of local Indian brands increased by 32 per cent during that period.
Contrast this with the valuation growth of the global brands with local presence, which grew by only 19 per cent.
"Suitability to local palate or tastes, cultural fit, pride and nationalism, sheer ease of availability and price advantage are the key differentiators," says Hemant Mehta, managing director (Media, Digital) and chief strategy officer Kantar IMRB.
Many local brands have moved beyond their states and even expanded their product portfolios. But they have done so after securing the base at home.
For example, Amrutanjan, the 122-year-old brand that has 50 per cent of the balm market in Tamil Nadu.
According to Stalward Advisors, a firm that funds small businesses, Amrutanjan until 2012 was mainly selling balms, a Rs 700-crore category growing in the high single digits that is led by Emami's Zandu (55 per cent share) followed by Amrutanjan (10 per cent).
In recent years, the brand has launched a back pain reliever in a 'roll-on' format which is a big hit among urban and even millennial consumers and has transformed itself into a youthful product with new packaging and variants.
It has also moved away from regional campaigns and ad spend has gone up from 8 per cent of sales to 12 per cent in the last three to four years.
The brand has increased its footprint outside the South too. In 2015-16, the Southern market, which used to contribute around 67 per cent of total sales in 2011-12 accounted for 60 per cent. The Eastern region has gone up from 15 to 21 per cent and the North from two to three per cent.
Local brands are even giving cola majors a scare. Ram Rengarajan, who owns Renga Soda that sells the Kisso brand and is based out of a remote town in Tamil Nadu, said that the local players have an advantage.
"We replace empty bottles more frequently and offer three months' shelf life and require lesser preservatives," Rengarajan says. He says he does not plan to expand his market at the moment.
Mehta explains that brands such as Kisso are reluctant to grow beyond their territory because of economics and appetite.
"Today, as a brand owner he believes he understands a particular geography. He does not want to go into the unknown and the cost of building a national brand is also expensive," says Mehta. But that does not stop them from trading up later.
In fact this is the script that most local brands have followed. CK Ranganathan, founder-chairman of CavinKare, who comes from a small coastal town in Tamil Nadu and has built a bouquet of personal care, food, snacks, dairy products and beverages brands says that in the recent times local brands have been helped by many factors and one of these, interestingly, is the availability of homegrown talent.
Local brands are more agile too. "They change gear in fractions of seconds, while MNCs would take at least four to five months," says Ranganathan. As far as money is concerned there are PEs and other investors to back you, he adds.
Local brands have also been able to ride the global trend in favour of herbal naturals.
They have shone in categories as diverse as bathing soaps (Haldi and Chandan in Santoor), shampoos (Forest Essentials), cosmetics (Himalaya, Biotique), food and beverage (Patanjali, Tulsi Tea), skin care (Bon Organics, Osha) to apparel (indigreen), adds Mehta. He adds that as people migrate, within the country and outside, they carry the brand with them.
Kantar IMRB's TGI India data shows that 31 per cent of Amrutanjan users outside Tamil Nadu are Tamils. Similarly, over 40 per cent of Ghari (detergent) users outside UP are Hindi speaking consumers. There is also a large list of hyperlocal brands he adds, indicating the growing influence of small regional players in India's future consumption story.