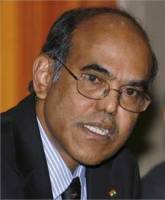 Top bankers will meet Reserve Bank of India Governor Duvvuri Subbarao and his deputies on October 4 for the customary deliberations ahead of the half-yearly monetary policy review, scheduled on November 2.


Though there is no formal agenda for the meeting, it is generally conducted to get bankers' views on the macro economic scenario and credit and deposit growth. The apex bank also point out its concerns, if any, on specific issues.


According to bankers, transmission of monetary policy may be an area of concern for RBI, as banks are yet to fully react to the hike in policy rates by the central bank. During the first quarter review, RBI had said the transmission had improved but was still not robust.


The country's largest lender, State Bank of India, on Thursday increased its deposit rates, but left its benchmark lending rate, or the base rate, unchanged at 7.5 per cent.


However, Punjab National Bank and Allahabad Bank increased their base rates by 50 basis points (bps) each to 8.5 per cent.


Tardy deposit growth has been an area of concern for the central bank, as real returns to depositors continue to be negative, with inflation ruling over eight per cent. For the year to September 10, deposit growth was 14.78 per cent, far below RBI's projection of 18 per cent for 2010-11.


During its mid-term policy review, RBI had said that one important consequence of negative real rates was that banks had seen a deceleration of deposit growth, as savers looked for higher returns elsewhere.


"If bank credit is not to become a constraint to growth, real rates need to move in the direction of encouraging bank deposits," RBI said. The credit growth has been in line with the central bank's projection of 20 per cent.


Headline inflation, which has stayed much above RBI's projection, has been one of the major concerns of the central bank.


Data released on Thursday showed the wholesale food price index rose to a scorching 16.44 per cent for the week ended September 18, compared to 15.46 per cent in the previous week, due to severe rains and flooding in some parts of the country that resulted in a temporary disruption of supply of essential food items.


Liquidity scenario is another issue which RBI may discuss with banks. Banks have been borrowing an average of Rs 40,000 crore (Rs 400 billion) daily from RBI through its liquidity adjustment facility to meet their cash shortfall.


On Wednesday, the overnight inter-bank rate surged to 7.30 per cent, the highest in more than six months.


RBI to discuss new banking licences with industry bodies


The Reserve Bank of India's Deputy Governor, Usha Thorat, and Executive Director Anand Sinha, will meet industry representatives and bankers on October 7 to discuss the issue of granting fresh banking licences.


RBI had released a discussion paper on new banking licenses a few months back and asked for comments. The deadline for sending comments and suggestions expired on Thursday.


Interestingly, most bankers have refrained from giving their feedback. Sources said a large private sector bank, one of the few banks which had given its feedback, was of the view that the country had enough banks and new players would only intensify competition.


The discussion paper has also not specified any norm for new banking licences but depicted various scenarios like capital requirements and promoter's shareholding and has explored pros and cons of the scenarios.


However, the central bank said it would issue limited number of licences and entities with direct or indirect links to the real estate sector, would not be given permission to open banks.


Image: Duvvuri Subbarao