With plummeting rupee, Finance Minister P Chidambaram on Monday met Prime Minister Manmohan Singh and later held discussions with RBI Governor D Subbarao who said the central bank will look into latest inflation numbers before coming out with the monetary policy review.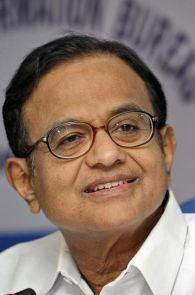 In his meeting with Singh in the morning, Chidambaram is believed to have discussed the current economic situation against the backdrop of falling rupee, which ended lower by 33 paise to 59.89 against the dollar.

Rupee had earlier in the month touched an all time high of 61.21 to a dollar.

Chidambaram also briefed the Prime Minister about his recent Washington visit, where he pitched for US investments in India. There he had also met key policy makers including Treasury Secretary Jacob Lew, besides heads of several multi national companies.

Later in the day, the Finance Minister met Reserve Bank Governor Subbarao, who also had meetings with other top ministry officials.

"Of course, we will take into account inflation numbers while framing
the policy," Subbarao told reporters after the meetings.
Inflation, which has been a key concern for the RBI, rose to 4.86 per cent in June from 4.7 per cent a month ago on costlier kitchen items like onion, rice and other cereals.
The central bank is scheduled to announce the first quarter monetary policy review on July 30 amid industry demand for reduction in interest rate to boost sagging growth.
Subbarao is also believed to have discussed the declining rupee and macro economic situation with Finance Ministry functionaries.
Subbarao further said he had come here to discuss the issues concerning the forthcoming G20 Meeting in Moscow later in the week.
"I have come to discuss the G20 issues with the Finance Minister," he said. The meeting lasted for over an hour.
Chidambaram is also scheduled to participate in the G20 meeting of finance ministers and central bank governors to be held in Moscow on July 19 and 20.
Subbarao also had a separate meeting with Department of Economic Affairs Secretary Arvind Mayaram, Chief Economic Advisor Raghuram Rajan and newly appointed Additional Secretary K P Krishnan.