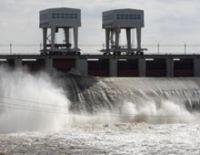 The All Assam Students Union (AASU) has demanded a White Paper from the BJP government on the upcoming hydel project project in Bhutan for which Prime Minister Narendra Modi laid the foundation stone recently.
The 600 megawatt (MW) Kholongchu hydro-electric project is being set up in Bhutan with financial assistance from the Indian government and is aimed at meeting power shortfall in the region.
The union has sought clarification on the environmental impact of the project in the nearby areas of neighbouring Assam.
In 2004 and 2007, due to the floodwaters released from Bhutan's 60 MW Kurichu hydel project, many lost lives and the project also had a disastrous impact in nearly 5 districts of Assam which includes Baksa, Nalbari, Barpeta, Kokrajhar and Bongaigaon as cultivable lands, crops and houses were completely washed away.
Krishak Mukti Sangram Samiti (KMSS) which has been fighting against mega dams that are being constructed on upper reaches of rivers in Arunachal Pradesh, has also flayed the move of Modi government to help Bhutan to construct a 600-MW hydel project.
"The BJP and Prime Minister Narendra Modi have made a somersault on the issue of big dam projects with Prime Minister Modi laying the foundation stone of the 600 MW project," KMSS leader Akhil Gogoi said.
Asom Jatiyatabadi Yuba Chhatra Parishad (AJYCP) too has demanded a cumulative downstream impact assessment study of the hydel projects of Bhutan.
It demanded a moratorium on all the upcoming hydro power projects in Bhutan, till the downstream impact study is done.
The AJYCP said, Prime Minister Narendra Modi should keep in mind his election-time promise of promoting small hydro-power projects in the Northeast region to generate power instead of mega dam projects that are facing stiff opposition.