Air India on Wednesday filed a contempt petition against striking pilots in the Delhi High Court on grounds that the agitators have failed to comply with its previous order restraining them from undertaking the stir.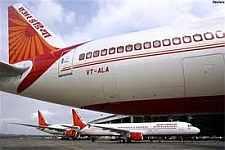 Filing the petition through counsel Lalit Bhasin, Air India management said despite the court's restraint order, several opportunities were given to the striking pilots to resolve their issues but they failed to settle the matter.

The counsel for AI is likely to mention the matter before Justice Reva Khetrapal, who had passed the restraint order, for the petition to be heard on Wednesday itself.

On May 9, the high court had restrained over 200 agitating pilots from continuing their "illegal strike", reporting sick and staging demonstrations, a day after the airlines management sacked 10 pilots and derecognised their union.

The pilots, under the banner of Indian Pilots Guild (IPG), are agitating over the rescheduling of Boeing 787 Dreamliner training and matters relating to their career progression.

The judge had also said allowing such a strike to continue would cause irreparable loss to the company as well as huge inconvenience to the passengers travelling by the national carrier.

Filing an injunction suit against
the pilots, counsel for AI management Bhasin had termed the strike as illegal and said due to the pilots' stir, the company has been compelled to cancel some of its international flights which has resulted in extreme hardship and also inconvenience to the passengers.
Moreover, as a result of the cancellation of flights, Air India is facing huge financial loss of over Rs 10 crore (Rs 100 million) per day, he had said.
Bhasin had submitted that despite the management's attempts to hold a meeting with the IPG members, the pilots were not showing any interest to resolve the issue.
Under the Industrial Disputes Act, the pilots were supposed to give 14 days notice to the management before going on strike, but in the instant case, the IPG failed to comply with the provisions of the Act, Bhasin had said.
The AI management had moved the high court seeking an order restraining the pilots from going on strike.
Trouble started for the airline on May 8 when pilot-members of the IPG took mass sick leave, protesting the management move to provide Boeing-787 Dreamliner training to pilots from the erstwhile Indian Airlines.
The pilots have made four demands which include exclusive flying rights on Boeing 787 aircraft, payment of arrears from 2007 onwards, travel on first class when not working, and the right to be promoted as commanders within six years.