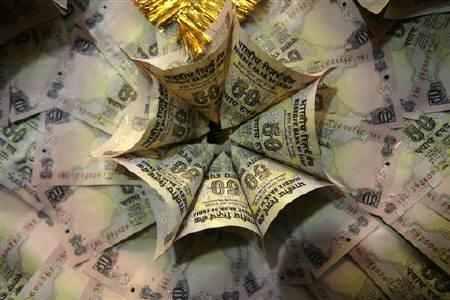 Investors became richer by over Rs 80,000 crore (Rs 800 billion) today as the benchmark indices rose over 1.7 per cent each on Goldman Sachs' upgrading Indian stocks and optimism that government will push through key economic reforms.
The BSE barometer 30-share Sensex closed 328.83 points higher at 19,170.91 -- its 19-month high closing level.
The wide-based 50-issue Nifty of the NSE also flared up by 97.55 points or 1.70 per cent to end at 19-month high above 5,800-mark at 5,825.00. This level was not seen since April 27, 2011 when it had settled at 5,833.90.
Led by the strong uptick in the market, the total investor wealth moved up by Rs 80,375.26 crore to Rs 66,74,394.71 crore. Across BSE, 1681 stocks rose while in NSE, 891 shares gained.
Among the Sensex constituents, 26 stocks closed with gains led by Bajaj Auto, ICICI Bank, Tata Motors, Cipla and Sterlite.
In the previous trading session also the Sensex had gained over 300 points. It soared by 305 points on Tuesday after credit rating agency Moody's kept India's outlook stable.
Brokers said investors are confident that the UPA government will excel in a trial of strength over FDI in retail issue to be witnessed in Parliament next week.
"Market outlook turns to positive now and buying may be considered on dips. In the coming sessions, market is likely to see further buying above 5,850 level, for likely upward targets of 5,950-6,000," Nidhi Sarswat, Senior Research Analyst, Bonanza Portfolio said.
Markets have started factoring in some further announcements on fiscal reforms with the deadlock on retail FDI issue being resolved and discussion expected to happen next week, according to Dipen Shah, Head of PCG Research, Kotak Securities.