Shares of asset management companies (AMCs) have rallied in the last 3-4 sessions due to clarity on regulatory changes in total expense ratios (TER) and expectations that it won't upset profits much in the long run.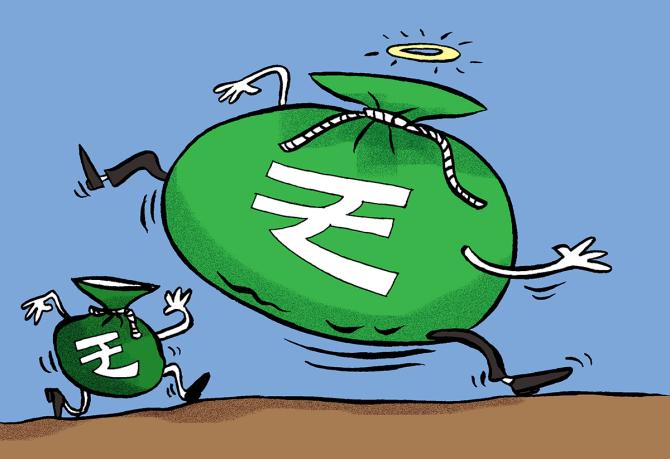 HDFC AMC has gained over 12 per cent in the last four sessions, while Nippon AMC and UTI AMC are up around 5 per cent.
Aditya Birla Sun Life (ABSL), the only other listed AMCs, has risen more than 2.3 per cent in the last four sessions.
The new TER structure will hit profits of AMCs, especially the larger ones, as it brings down expenses for investors on two fronts.
First, the TER will create an additional expense burden on AMCs: from trading costs to goods and services tax (GST) on fund management fee and securities transaction tax (STT).
These expenses are now paid by investors over and above the TER.
The other issue is the cut in maximum permissible TER for larger AMCs, especially in the case of hybrid schemes.
TER is the total expenses that AMCs charge investors for managing mutual funds.
AMCs have options to cushion the impact of changes.
They could pass on the margin pressure to subsidiaries, primarily mutual fund (MF) distributors.
The Securities and Exchange Board of India (Sebi) has given AMCs the option to bypass brokers and execute trades directly by obtaining limited-purpose memberships with stock exchanges to lower trading costs.
For analysts and investors, comfort comes from AMCs' valuations.
AMC stocks were under pressure for a long time in anticipation of TER cuts, removal of tax benefits from debt funds, subdued profit and revenue growth due to weakness in the equity market, apart from stock specific concerns.
Analysts believe that stocks have turned attractive since all the headwinds are already priced in and regulatory uncertainties have eased.
Most brokerages have maintained a 'BUY' rating on AMC stocks.
Kotak Institutional Equities (KIE), which has an 'Attractive' rating for the sector, said that the pass-through of the TER cut "impact could present upside possibilities for AMC stocks".
The brokerage said in a report its interactions with AMCs revealed that asset managers plan to pass on the impact of TER changes to intermediaries such as distributors, brokers and the registrar and transfer agents (RTAs).
Apart from the pass through, they intend to cushion the impact through better control and calibration of portfolio churn.
KIE expected the TER overhaul to benefit the asset management industry.
"In the medium- to long-term, the new regulations could help deliver better alpha versus passives, which will get slightly more expensive.
"As highlighted earlier, with the key regulatory overhang now gone, AMC valuations are likely to be a lot more responsive to fundamental drivers such as flows and markets," it said.
AMCs hope that Sebi will provide some breather in the final regulation.
The KIE report said that the industry might approach Sebi for some changes in the proposed TER like keeping GST and STT out of the TER.
Brokerage firm Jefferies has estimated the proposed changes to hit AMCs' profits by 13 per cent, or even lower, if a part of it is passed on to distributors, brokers and registrars and transfer agents.
Nuvama Institutional Equities, which has initiated its coverage on AMCs with a 'BUY' rating on three of the four stocks, says it is bullish on the AMC space due to vast growth potential.
"There are only around 37.7 million unique investors in a country of 435 million PAN holders and about 58 million taxpayers.
"Furthermore, we argue the rationale is simple: there is no incentive for distributors to sell passive schemes.
"This implies immense long-term upside potential," it said in a report.