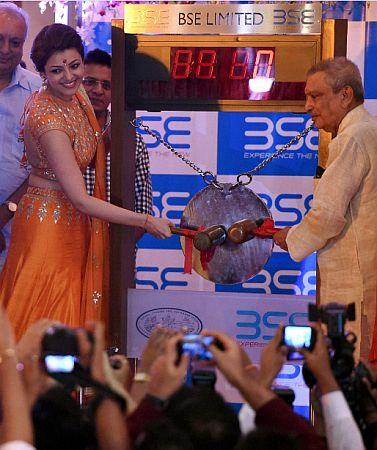 Image: Bollywood actress Kajal Agarwal during the auspicious Muhurat trade on the first day of Diwali at the Bombay Stock Exchange. Photograph: Shashank Parade/PTI
Indian stock markets are likely to remain bullish during the current Hindu calendar year (Samvat 2071) and investors would continue to reap rich gains, say experts.
This year has been euphoric for markets. Apart from the last one month or so, overseas investors have been buying heavily.
"Now that markets have been acquiring higher peaks, we can see retail investors coming back gradually. We are likely to witness a rise in retail flow into the market this year.
That will be healthy for the market as so far Indian market is totally dependent on the FII money," said S K Goel, Director, Bonanza Portfolio Ltd.
"Expect the market to remain bullish from this Samvat to the next but volatility is likely to continue. In this rally so far, IT, pharma, auto consumer, banking had been the leaders and we expect these sectors to remain bullish.
"Cement and infra would do well in the coming year considering the fact that Modi government's focus has been on building new cities," he added. The Sensex gained 5,590.42 points, or 26.37 per cent, in the entire Samvat 2070.
Analysts said that currently we are in a bull-market and stocks will remain as best asset-class in Samvat 2071, provided global markets remain stable.
BJP's win in two state elections (Maharashtra and Haryana) has raised expectations of additional reforms, they said. Experts said markets have given a thumbs up to this win as now the new government would find it much easier to pass reform bills in the Rajya Sabha.
"With quick policy decision making and reforms clearances, we expect the new government to maintain and build higher confidence for FII investors," an expert said.
With stable macros and policy push by the Modi government Indian markets should be able to continue doing good. Reforms at the Centre are the key for the next leg of rally, say analysts.
"This Samvat year would be positive for markets as macroeconomic data have been positive and there are expectation that slew of reforms would greet investors during this period," said Alex Matthews, Geojit BNP, Research Head.
Some tension at the borders can impact the market if they worsen from where they are today, he added.