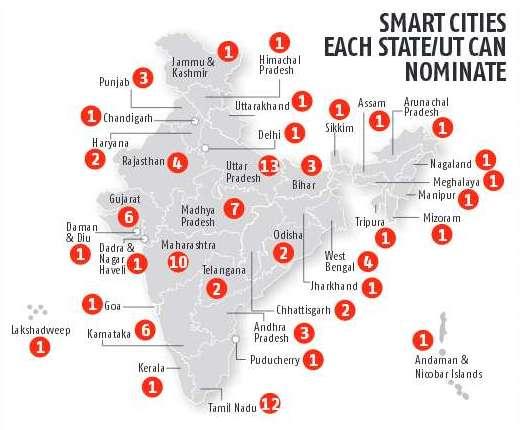 First phase of city challenge takes off: July 31 last date for nomination of cities
Kerala and Jammu & Kashmir are perhaps the only two states which have still not decided on their nominations for the National Democratic Alliance government's ambitious 100 smart city project. Both Kerala and J&K can nominate one city each for the project, based on criteria such as urban population and number of statutory cities and towns in a state.
According to a source, the two states have sought more time for their nominations.
The deadline for the first phase of competition to select 100 smart cities is July 31, when states must nominate names of cities according to the numbers set by the government.
Eighteen states and Union Territories, including Gujarat, Rajasthan, Uttar Pradesh, Karnataka, Bihar, Himachal Pradesh, Chhattisgarh, West Bengal, Andaman & Nicobar, Assam, Chandigarh, Jharkhand, Lakshadweep, Manipur, Mizoram, Nagaland, Odisha and Sikkim, have given their list to the urban development ministry.
All others, except Kerala and J&K, are expected to give their respective list on Friday, to meet the deadline.
Samajwadi Party-ruled Uttar Pradesh, which got to nominate the largest number of cities at 13, is learnt to have selected Lucknow, Meerut, Agra, Ghaziabad, Aligarh, Saharanpur, Moradabad and Bareilly as the top choice for the project.
It has also named Varanasi, from where Prime Minister Narendra Modi won the 2014 Lok Sabha elections, beside Jhansi, Kanpur and Allahabad, a source said. Gujarat, which can nominate six, is believed to have listed Ahmedabad, Gandhinagar, Surat and Rajkot, among others. Rajasthan's list of four includes Jaipur and Ajmer.
Calling it 'City Challenge', modelled on an international format, states were told to nominate the assigned number of cities and towns on four broad criteria -- existing service levels in city/town, institutional systems and capacities, self-financing, track record and reforms.
"Every state government has to evaluate all cities/towns in that state based on these criteria and nominate the top performers as per the number assigned to each state," the urban development ministry had said earlier this month.
So for instance, Uttar Pradesh has to nominate 13 top scoring cities/towns after evaluation of all urban local bodies in the state according to the prescribed criteria.
While states will select a total of 100 cities, only 20 will be picked for the first stage of the smart city project this financial year.
The remaining 80, in the proposed 100 smart city plan, will join the club in two equal batches of 40 each in the following two years.
The selected cities will get central assistance in addition to states, local bodies and private players pooling in their resources for the project.
The Union Cabinet had recently cleared Rs 100 crore a year per city for five years.
The total Central allocation for the mission is Rs 48,000 crore (Rs 480 billion).
Once the entire smart city plan is rolled out pan-India, Uttar Pradesh will be top of the heap with maximum number of such cities, at 13.
Tamil Nadu will be next at 12 smart cities, Maharashtra at 10, Madhya Pradesh 7, Gujarat and Karnataka at 6 each.
Rajasthan and West Bengal will have 4 smart cities each, while Bihar, Andhra Pradesh and Punjab get a share of 3 each.
The remaining states get just 1 or 2 cities each.
The timeline for completing the smart city project has not been defined, but the entire process for 100 cities could take a decade or more, experts said.