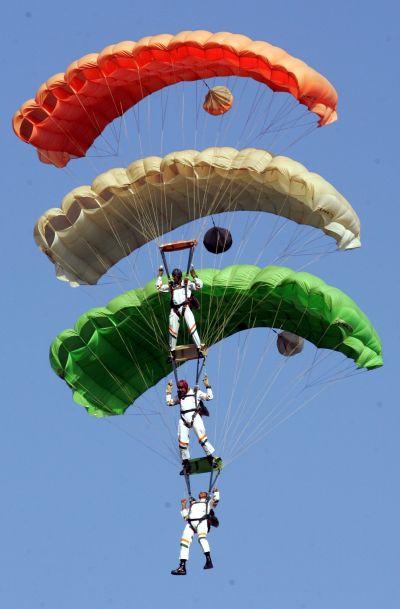 As West Bengal, Kerala, Assam, Tamil Nadu and Puducherry prepare for new administrations, one is reminded of the disparity that runs through the veins of the Indian states, notes Mihir S Sharma.
One is never so sharply reminded that India is a Union of incredibly disparate states as during the run-up to Assembly elections.
But that reminder is particularly sharp this year, as the four big states of West Bengal, Kerala, Assam and Tamil Nadu -- in addition to Puducherry -- prepare for new administrations.
Maybe it' because none of these are part of the Hindi belt; and although a national party is in power, or a strong contender, in at least three of them -- Kerala, West Bengal and Assam -- they are nevertheless independent satrapies even by the standards of our fractured politics.
But most importantly, perhaps, they each of them have blazoned independent economic paths of late.
And this is a crucial part of the challenges that bedevil current thinking about economic policy -- thinking which continues to have a Delhi-centric focus.
Three out of the four states feature strong chief ministers.
This has, of course, become a nation-wide trend over the past decade and some, even within national parties.
In Tamil Nadu, Chief Minister J Jayalalithaa's control over the civil service and decision-making is legendary; indeed, the persistent rumours about her indifferent health of late have focused on the claim that it has slowed down the state government's previously enviable decisiveness.
Chief Ministers Tarun Gogoi in Assam and Mamata Banerjee in West Bengal have both ensured that they have no peers in their state parties.
In one respect, they began with similar problems: Both Mr Gogoi's first term in the early 2000s and Ms Banerjee's ongoing first term prioritised largely successful efforts to stabilise their states' shaky finances and to de-fang violent insurgencies.
Ms Banerjee is feared by her bureaucracy for her ability to come down like a ton of bricks on those who displease her, and has tended to hold bureaucrats accountable in public.
Mr Gogoi, on the other hand, has won the trust of his bureaucrats and is generally believed to be receptive to new ideas from them.
Either way, this underlines the fact that a CM's close personal supervision of and control over the local higher bureaucracy underlies his or her ability to forge personal power and, perhaps consequently, independent policy paths.
What are these policy paths?
Kerala's specific model of development is well enough known that it does not need to be discussed here; what matters is that both coalitions that vie for power there largely share a commitment to it.
To insiders, the differences in approach between the Left and the Congress-led coalition may seem deep, but to outsiders, these differences do not seem so great at all. (Remember, most of Kerala's Congressmen, like A K Antony, were among the most left-wing components of the United Progressive Alliance leadership.)
Tamil Nadu's development path, meanwhile, is something of a model to the hopeful; an efficient market-friendly administration, a focus on manufacturing and on job creation -- and on the infrastructure that supports it.
But this is not a cheap model: Both the welfare schemes to support the political consensus on such policy, and the infrastructure programmes to enable it, cost money.
Unsurprisingly, Tamil Nadu's government borrowing has grown at the fastest rate of any Indian state during Ms Jayalalithaa.
It is one of the only states of the Union where interest payments as a percentage of revenue expenditure have actually increased over the past years.
West Bengal, meanwhile -- while also focusing on job-creation -- has had other pressing priorities.
In particular, the government has had to ensure an increase in its own revenue, as a method to deal with controlling its debt pile, the highest in the country at over a third of gross state domestic product.
Around 20 per cent of its revenue expenditure goes on interest payments (notably, Kerala is also in the top five in terms of this criterion).
The state's 'debt trap' is a major issue in Centre-state relations, with neither Ms Banerjee nor her Finance Minister Amit Mitra missing a single opportunity to demand New Delhi waive or restructure this debt.
Tamil Nadu, too, has made debt demands in the past -- Ms Jayalalithaa famously asked Manmohan Singh for a Rs 1-lakh-crore (Rs 1 trillion) bailout after she took over as CM.
States' debt ceilings are clearly going to be a major federal flashpoint in the future.
The Union finance ministry's pre-Budget meetings with state finance ministers returned to the issue constantly.
Mr Gogoi's Assam demanded it be able to borrow more money from the markets, so it had Rs 30,000 crore (Rs 300 billion) more to spend.
Tamil Nadu's power distribution company is Rs 80,000 crore (Rs 800 billion) in debt -- under Ms Jayalalithaa's last term, its debt doubled.
Unsurprisingly, a demand has come in that state borrowing under the UDAY power debt restructuring scheme be exempted from the 3.5 per cent cap imposed on state deficits.
Mr Gogoi's Assam's development path features an old-style focus on social and financial stability -- perhaps natural, given that he inherited a state torn apart by both fiscal profligacy and multiple insurgencies.
In 2001, when he first took over, the state paid 23 per cent of revenue expenditure as interest, and almost 50 per cent as salaries.
But, like many other such politicians, he may now be a victim of his own success: Stability breeds expectations, and the consensus underlying the development path that prioritises stability begins to fray.
One of Mr Gogoi's headline pronouncements in this election campaign has been to set up 'development councils' for Brahmins, among others -- according to him, in order to address the 'economic condition of several communities which had earlier enjoyed social prestige but whose status has gone down in recent years'.
The unsustainability of this con-social approach may well be exposed in the coming elections, although the Bharatiya Janata Party-led coalition's promised policy emphasis is in substance not very different.
The crucial takeaway for me from looking at these four poll-bound big states is two-fold.
First, the common theme across states and models is the question of debt; demands that states begin to borrow with the same freedom as the Centre are going to only be amplified over time.
Second, that each state features something of an economic policy consensus between the two major local contenders for power; the differences across states may be much wider than the differences between parties within states.
These divergences between states are only going to grow over time.
The next Assam government, for example, will have to construct policy quickly to deal with the opportunities that increased connectivity with Southeast Asia and Bangladesh will provide.
Tamil Nadu's will want freer trade to embed its manufacturers in global supply chains; Kerala's will want to protect its agri-commodity producers from global competition.
But as decision-making -- and the power to borrow and tax -- shift to state capitals, there has not been a commensurate shift in the capacity to debate and create actual policy options.
If cooperative federalism is to mean anything, altruistically creating such state capacity must be the Centre's priority.