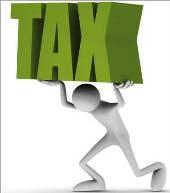 At a time when talks between the Centre and states on the much-anticipated goods and services tax have failed to make much headway, states have decided to walk an extra mile, in fact a few thousand miles, to break the ice.

Top ministers from about 20 states and some officials from the finance ministry are leaving for a 10-day trip to Europe next week.

Their destinations -- Paris, Spain, Brussels and Luxembourg -- may seem exotic, but the ministers mean serious business.

From Madhya Pradesh finance minister Raghavji,  strongest opponent of the Centre's GST model, to the chief ministers of Uttarakhand, Meghalaya and Assam, everyone will get together in Paris on September 7 to study the European model of GST.

The time they spend in each other's company may help resolve differences and take things to a logical conclusion, says an optimistic official from the finance ministry.

He is also hopeful some of the fence-seaters may be able to make up their mind on which way to go after understanding their GST model.

Ironically, former Empowered Committee chairman Asim Dasgupta, during whose tenure the idea of this trip was envisaged, will not be a part of the 40-member delegation.

In fact, current West Bengal finance minister Amit Mitra is also giving it a miss, along with ministers from Tamil Nadu, Gujarat, Karnataka and Uttar Pradesh.

Tamil Nadu, Gujarat and Uttar Pradesh have not yet lent their support to many aspects of GST.

Officials, however, say this has more to do with the internal administration and politics of these states, rather than politics of GST.

Some ministers have not been able to get the approval from their chief ministers, explained one official.

Nevertheless, the presence of 20 state ministers is a rare
sight even in the meetings of the Empowered Committee.
The enthusiasm to fly to Europe is such that the name of more than one official from each state was sent to the finance ministry, so that they could also 'learn' about GST from the European countries.
Their learning curve, however, may plateau for the time being, as the ministry has allowed only one official from a state and only when accompanied by the state finance minister.
The total cost of the tour for over 40 people may run into a couple of crores.
The expenses will be borne by individual states.
The empowered committee is willing to bear the expenses of the three visiting Union finance ministry officials.
Some ministers and officials are even taking their spouse and children along 'on their personal expense', as there might be some 'free time' during their four-day stay in Paris, three days in Spain, two days in Brussels and a day in Luxembourg.
This will be the first foreign trip to study GST for over 90 per cent of the state ministers and officials, barring Empowered Committee chairman and Bihar deputy chief minister Sushil Modi, Orissa finance minister Prafulla Ghadai, Delhi health minister A K Walia and Raghavji.
Prior to this, the Empowered Committee travelled to Canada, Australia and Brazil but that was a long time back.
"No trip can change things over night but there will be learning for sure.
"They will make new connections besides studying the complexity of inter-state trade, taxation mechanism and implementation of GST.
"One can hope the states will be more learned and more aware when they come home on September 17," sums up the official.
Earlier, Canada was also discussed as an option for this tour, but the Committee later finalised Europe, as it was felt the European model was more complex and similar to a federal system.