New York Stock Exchange-listed Starwood Hotels & Resorts Worldwide, Inc, on Wednesday said it expects to operate 50 hotels in India by the end of 2012 and the country is second only to China in its plans for future growth.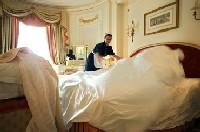 The ambitious expansion plan will result in the company's presence in the country doubling within the space of just two years.

As part of the strategy to grow its business in India, Starwood Hotels & Resorts Worldwide today announced the opening of the Starwood India Customer Contact Centre (CCC) in Gurgaon.

This would be Starwood's ninth global CCC and the fourth in the Asia-Pacific, it said in a statement.

"Starwood Hotels & Resorts continue to remain bullish on the long-term growth opportunities in the region. Already our fourth largest market, India is second only to China in terms of our future global growth. There is tremendous potential for us in both domestic and international travel," said Starwood Hotels & Resorts Senior Director, Customer Contact Centres, Asia-Pacific,
Patricia Neo in a statement.
"The Starwood India CCC will offer an enhanced level of service to Starwood's fast-growing customer base in the South Asia region," the statement said. Focused on opening the "right properties in the right places with the right partners", Starwood Hotels & Resorts remains on track with plans to open three additional hotels in 2011, growing its total portfolio in India to 35 hotels by the end of the year, according to the statement.
The key openings in 2011 include the recently opened Sheraton Bangalore Hotel at Brigade Gateway and the soon to open Le Mridien, Coimbatore.
Starwood Asia Pacific Hotels and Resorts Managing Director, India and Regional Vice-President, South Asia, Dilip Puri said, "This 'India for India' contact centre will enable us to better connect with customers in the region, appreciate unique customer preferences and behaviours and provide a level of service that will drive long-term customer loyalty to Starwood brands."
Starwood is looking at having this centre operate 24x7 to support both India and global operational needs.