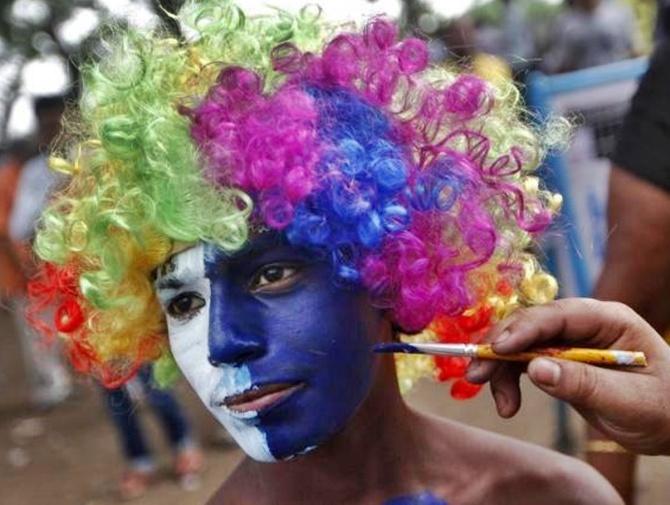 Housing, Freecharge and Makemytrip play the field, but they are outliers as many e-commerce companies cut back on ad spends this season
Whether you like the Indian Premier League or don't, there is no escaping the din and crackle surrounding the event this year.
And that is exactly what start-ups, paying anywhere between Rs 5 and 575,000 for a 10-second spot on television during the matches, are betting on.
The rates, almost 15 per cent more than that in 2015 (expected to go higher for the finals and the semi-finals), have kept out many this season.
But a beleaguered Housing.com, the restless Snapdeal-owned Freecharge and eager to grow, Makemytrip have jumped on, hoping to hitch a quick ride into the mass market.
Last year, there were many more e-commerce companies in the league; brands like Cardekho, CarTrade, Amazon, Paytm and others had aired between 60 to 120 seconds of adverts a day.
They paid Rs 475,000-500,000 per ten second spot.
This year, the same spots cost Rs 525,000-5,75000 with the possibility of the semis and finals selling at around Rs 6-6.5 lakh. The stakes are higher and the risk is bigger.

"Last year, e-commerce was the largest category, with almost 20 per cent share of total ad-spends.
"This year, the number of brands has come down, with smaller players dropping out.
"The outlays on the IPL are massive and many of the start-ups have not been able to raise funds.
"Among the biggies, Paytm is absent this year," said Rohit Gupta, president, network sales, Sony Pictures Network India. Sony is airing the IPL this year.

Housing is spending close to Rs 46 crore (Rs 460 million) on advertisements, a more modest budget than the Rs 120 crore (Rs 1.2 billion) it spent in 2015, and has already aired its first TVC.
Freecharge has unveiled two new ads while MakeMyTrip, which launched its campaign during the T20 world cup, has continued its blitz.
All three brands are trying to showcase either new services or, in the case of Housing, trying to re-enforce a new identity.
Housing has pivoted to a classifieds-cum-broker model and needs customers to know they are different.
Besides, the company would want to exorcise the ghost of (former CEO) Rahul Yadav, but that is not something anyone wants to talk about.
"We had people issues last year but our tech wasn't a problem.
The TV ad is a natural progression," said Nikhil Rungta, chief marketing officer, Housing.com.
Housing's previous campaign had yielded an increase in traffic but, sources at the time said, the conversions were in the low single digits. Rungta said the company was mindful of this.
"We are expecting a three to five time increase in traffic and will observe how the conversions play out before deciding on the next step," he added.
The company is targeting first-time homebuyers (27-35 year old) in its present avatar and the current campaign will run for four to six weeks.
Freecharge, which launched with a 25-second advertising campaign wants to goad its users into using the chat-and-pay feature, which lets customers directly chat with a seller and pay without leaving the chat window.
The feature strengthens its merchant base, which Snapdeal plans to leverage to increase its sales.
Does it really pay for start-up brands to be a part of the IPL when rates are higher and viewer age groups so diverse? Anand Halve, co-founder Chlorophyl, a brand consultancy, said that the IPL has an absorbed user base.
"During the IPL, the viewer doesn't take too many breaks. Each minute is important, so I end up watching all the advertisements," he said.
While that captures a customer's attention, it also helps build brand awareness not just for the end consumers but also for the merchants.
"The phone brand Oppo (one of the big advertisers this year), it doesn't need to convince retailers to stock the phone anymore," said Halve.
A similar rationale works for Freecharge and Housing as well.
When the company ventures out to convince merchants or brokers to get on their platform the advertising blitz would have built enough recognition to convince them.
But companies like Housing, trying to rebuild their reputation, would they have been better off with a sustained campaign instead of an IPL rush?
"Generally, you are more likely to remember me if I pour a bucket of water on you than pour the same amount of water through an ink dropper," Halve said.
As it is with the IPL, it is all about hitting the ball high and timing it right.
League warriors
Housing.com
Campaign: The tagline Ghar sirf ghar nahi hota, ghar meri jaan hai is meant for first time home buyers, be it for an investment, or for staying
Budget: Approx Rs 46 crore (Rs 460 million)
Freecharge
Campaign: The tagline Lo. Do. Khatam karo emphasises the ease of using the mobile wallet and digital payments platform for both buyers and merchants . It is built around its recently launched 'chat-n-pay' service
Budget: Undisclosed
Makemytrip
Campaign: The tagline Befikar book kar is meant to convince travellers about the ease and safety of booking hotels online. The company is looking to expand its category and grow beyond its ticketing business
Budget: Undisclosed
The image is used for representational purpose only. Photograph: Rupak De Chowdhuri/Reuters