Investors spent much of 2016 cleaning house.
And a VC tells Ranju Sarkar: "There's still some bad news left in the portfolios (of VC firms). What happens to Ola and Flipkart will drive sentiment in future."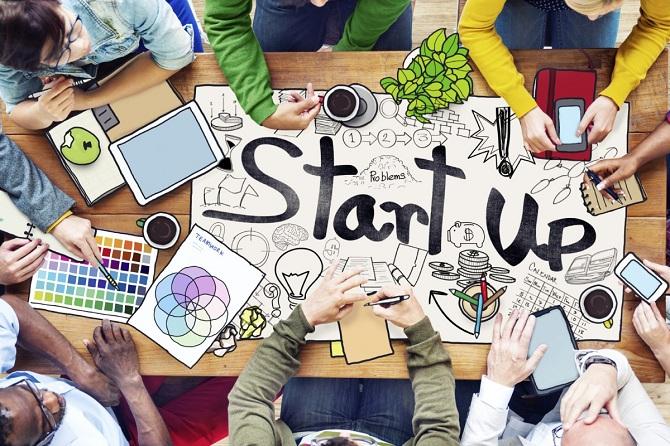 IMAGE: Start-up funding fell 58 per cent in 2016 to $2.93 billion, down from $6.93 billion in 2015, according to VCCEdge. Photograph: Reuters.

After vying with each other to invest in start-ups at high valuations in the past few years, investors spent much of 2016 in cleaning up their portfolios, asking start-ups to reduce their cash burn, improve unit economics, and extend their runways (life).
Several start-ups, which had no future, shut down; others that had good talent or technology, got acquired by well-funded start-ups. Online classified major Quikr, for instance, acquired seven start-ups in 2016, three of them in the beauty services space.
"VCs used 2016 to manage costs, set priorities, and valuations. It was important for investors to pause, focus on the basics, which sent a message to the founders that raising money is not going to be easy. They need to manage the burn, drift and cut losses," Rahul Khanna, managing partner, Trifecta Capital, recently told Business Standard.
Start-up funding fell 58 per cent in 2016 to $2.93 billion, down from $6.93 billion in 2015, according to VCCEdge, the data platform of News Corp VC Circle. Deal volumes fell 31 per cent in 2016. VC major Sequoia Capital India invested only $56 million across 32 deals in 2016 (till December 5) against $232 million across 69 deals in 2015.
Years 2014 and 2015 saw a large number of early-stage and growth-stage deals, but they slowed down considerably in 2016. "Year 2015 saw large deals, a large number of deals and a lot of money being raised," says Madhukar Sinha, partner at early-stage VC firm India Quotient.
On-demand grocery player PepperTap, which had raised $40 million and scaled to 20 cities, shut shop as its unit economics were not in place. Rival Grofers, which raised three rounds in nine months, had to shut operations in many cities. "Many start-ups had raised capital beyond their appetite. It was premature for them," says Sinha.
Investors had turned cautious from the middle of 2015 as they realised that valuations had run ahead of fundamentals. The Housing.com episode (it had raised over $100 million, but blew it on promotions and spreading itself thin) played a key role in shaping perceptions while the meltdown in China and valuations write-downs in the US made investors nervous.
Hedge funds such as Tiger Global, Falcon Edge, Steadview, and other investors like SoftBank, DST Global -- which were riding local VC firms Nexus Venture, Helion Partners, Accel and Sequoia -- slowed down.
Tiger Global, for instance, was the most active investors in India in 2015. It invested $1.2 billion across 24 deals in the first three quarters of 2015, but invested only $305 million in the same period in 2016, including follow-up rounds in Flipkart and Ola.
In 2014 and 2015, VCs competed with each other to invest in start-ups for fear of missing out on a deal. In some cases, they did so without meeting the start-ups even once, but just over a video call. The fear of missing out disappeared by end-2015, and deals took longer to close in 2016. Large deals were fewer, except for a few growth-stage deals by established start-ups like Byju's or FreshDesk.
On-demand local services and food-tech sectors, which attracted a lot of funding in 2014 and 2015, went out of favour. Year 2016 saw investors' growth-stage deals to early-stage deals and from consumer internet to start-ups in the business-to-business, enterprise and Software-as-a-Service space.
Bigger investors such as SoftBank, Tiger Global and DST Global, which led the euphoria in 2015, have not resumed investing, except follow-on deals. "The metrics have changed. Investors are looking for past performance, scalability and entry barriers: intellectual property and unit economics," says Abhishek Agarwal, co-founder and CEO, Credit Vidya.
"If you don't have your unit economics in place, you can't raise money anymore. You won't have one more Housing," adds Agarwal.
Investors say they're looking for unit economics like profitability per transaction or profitability per customer and start-ups have to show that customers can be profitable over time. "You can't keep losing money," says a VC.
Is the worst behind us?
The past few months have seen a flurry of deals from Sequoia, Lightspeed, but the funding crunch start-ups have seen is far from over. Deal value fell to $255 million in November 2016 from $486 million in November 2015.
"You may see the odd deals, but the crunch is not over. It will take a while to ease," Sasha Mirchandani, founder and managing director at early-stage VC firm Kae Capital told Business Standard last month. "There's still some bad news left in the portfolios (of VC firms). What happens to Ola and Flipkart will drive sentiment in future," adds Sinha.