The deal, which will be signed this week, will see Standard Chartered Bank adding 170,000 cards to its existing portfolio of 1.1 million cards. The foreign lender will also become the fifth largest card issuer in the country after HDFC Bank, ICICI Bank, Citibank and State Bank of India.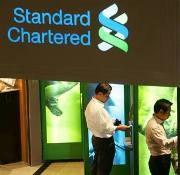 Barclays currently has a little over 300,000 cards in India.

It is believed Standard Chartered Bank will buy the portfolio at a hefty discount to the book value. The book value of the portfolio, which will be sold, is estimated at Rs 180-200 crore (Rs 2 billion).

"The transaction involves the sale of one-third of the portfolio. These are good quality, vintage cards. The deal does not include transfer of people or premise," said a source familiar with the development.

According to sources, Barclays can either sell its remaining portfolio to an asset reconstruction company or close the business.

Both Standard Chartered Bank and Barclays Bank declined to comment for this story.

Sources said Standard Chartered Bank "almost cherry-picked
the cards and will buy only cards that mirror its existing portfolio". The average holding of these cards is over four years.
Initially, when Barclays announced its plan to exit its cards business, five banks and financial institutions, including Axis Bank and SBI Card, had expressed interest in buying the portfolio.
Foreign and private banks in India have once again turned aggressive in expanding their unsecured assets, especially the credit card business.
Early this year, IndusInd Bank had acquired Deutsche Bank's Rs 224 crore (Rs 2.24 billion) credit card business in India, while HDFC Bank had announced the launch of premium segment cards, including 'Infinia', which it positioned against the American Express card.
Credit card outstanding in the first seven months of the current financial year has increased 7.2 per cent, as compared to an 8.3 per cent decline during the year-ago period.
According to the latest data released by the Reserve Bank of India, the growth on a year-on-year basis was five per cent till October 21, as compared to a 22 per cent decline in the previous year.