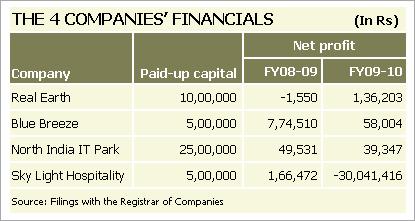 Congress President Sonia Gandhi's daughter Priyanka Gandhi Vadra was a director along with husband Robert Vadra in little known charter services provider Blue Breeze Trading, which is facing Team Kejriwal's allegations of receiving corporate favours in the form of inter-corporate loans.
Priyanka held the post for a little over seven months between November 1, 2007 and July 10, 2008, according to filings with the Registrar of Companies (RoC). On the day of Priyanka's exit, Kochi-based Sreenivasan Krishnan became the director of Blue Breeze.

The 49-year old Krishnan is a resident of the posh Panampally Nagar in the southern city, according to the filings.

Similarly, Real Earth, another of the four companies, had Gurgaon-based Harbans Lal Pahwa, in his 70s, as one of its directors between 2008 and 2009.
The list of insiders and business partners is longer. While Sky Light Hospitality has received an advance of over Rs 25 crore from realty major DLF, other Vadra companies have also received such advances from lesser known realty firms, the firms' current liabilities lists show.

The Sky Light balance sheet also shows a Rs 50-crore advance against sale of land in Manesar, without naming the creditor.
To be sure, the appearance of these names on the balance sheets and RoC filings of Vadra's firms does not amount to any quid pro quo.

These could be pure business dealings. However, there is no trace of any real business as the only cash inflows are interest earned from deposits and loans from sister concerns.
Despite being in the airline business, Blue Breeze also had business dealings with some unknown companies whose names prima facie smelled of realty such as VSR Infrastructure, Bedarwalas Projects and Bedarwalas Infra Irojects. The company owed between Rs 10 lakh and Rs 25 lakh to these firms.
Though Vadra's firms own substantial assets in the form of real estate properties spanning four states, their income stream is unclear at the best and non-existent at the worst. For FY10, Sky Light made a loss of Rs 3 crore largely due to a Rs 3.2-crore hit, 50 per cent share of loss on a Saket joint venture project.
Others made profits that would not even make the grade of a small-time real estate agent.
North India IT Parks made a profit of Rs 39,347, down 20 per cent from the previous year. Blue Breeze made a profit of Rs 58,004 and Real Earth topped the charts with a net profit of Rs 1.36 lakh.
Blue Breeze says in its annual report of 2010 that "the company services in the field of chartering have improved as compared to last year. It has purchased agricultural land by utilising the proceeds of its fixed deposits lying with bank."
Correspondingly, the balance sheet saw a new entry in FY10 under the head fixed assets for "agricultural land" worth Rs 69 lakh. The fixed deposits with Standard Chartered Bank came down to Rs 91 lakh from Rs 2.3 crore in the previous year. But, the company also lent Rs 1.33 crore to North India IT Park, Real Earth and Sky Light Realty.
These transactions put pressure on the interest income as it slipped to just Rs 4.25 lakh in FY10 from Rs 14.71 lakh interest earned the year before. With no other visible income stream, the net profit fell 92 per cent to Rs 58,004 from Rs 7.74 lakh the previous year.
Real Earth, which received a loan of Rs 5 crore from DLF in FY10, shows 10 different land parcels as fixed assets across Haryana, Rajasthan and Delhi. The total value of these properties is around Rs 7 crore.
North India IT Park bought 161 acres of land in Bikaner, valued at Rs 1.02 crore. The entire transaction appears to have been funded by loans from Real Earth (Rs 55 lakh), Blue Breeze (Rs 38 lakh) and Sky Light Hospitality (Rs 10 lakh).
There are other mysterious entities that keep cropping up in these balance sheets. Sky Light owes Rs 1.5 crore to Carnival Intercontinental Estates. Blue Breeze owes Rs 7,500 to one Manoj Arora. It also owes Rs 10,000 to P Shanti Devi. Sky Light Hospitality also owes Rs 10,000 to a similarly named P Shanta Devi.
Delhi-based Khurana and Khurana were the auditors for all these four firms.

Photograph: Reuters.