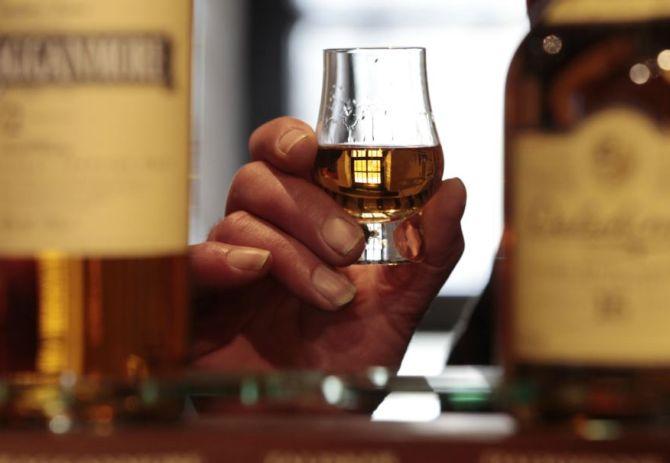 As international liquor companies consolidate their presence in India, many of them are initiating changes at the top to improve sales and fight competition.
In the process, they're taking a leaf from fast moving consumer goods (FMCG) companies, who've not hesitated to change their senior managements at regular intervals in an attempt to usher in fresh and innovative thinking.

Many of these new chief executive officers (CEOs) also have an FMCG background, pointing to the growing influence of consumer goods on liquor, which for long counted on "iconic" heads to run operations.

For instance, ex-Cadbury India head Anand Kripalu has just taken over as CEO of United Spirits, a company where the world's number one spirits company, Diageo is taking a controlling stake.
This as USL's iconic head, Vijay Rekhi, bid adieu after being with the company for nearly four decades; this month, he joined the Amit Dahanukar-led Tilaknagar Industries.
Similarly, Bacardi, the largest privately held and family-owned spirits company in the world, recently appointed ex-Marico hand Vijay Subramaniam as country head.
He replaced Mahesh Madhavan, who'd spent a little over six years heading operations in India and of Southeast Asia.

US-based distiller Beam Inc appointed ex-Kraft Foods' Thailand-head, Vidyut Arte, as managing director (MD) of its India business, to improve its reputation and expand the business.
This comes in the wake of allegations of financial irregularities by the erstwhile management led by Harish Moolchandani, with the company for nearly 14 years.

"Zero tolerance for mis-governance is the motto of multinationals. Change of guard and increasing stringency from global headquarters in MNCs mean CEOs will make compliance their first breath, which will vastly aid the industry and especially its positioning," said Santosh Kanekar, former marketing head at Diageo's India unit.

Navroz Mahudawala, MD, Candle Partners, who tracks the consumer goods industry closely, says: "With the consolidation on in the liquor industry and the growing hold of global companies, this churn at the top was bound to happen. New CEOs will bring in a new perspective to the business, which in this heightened competitive scenario will help liquor firms."

The change in guard also comes at a time when alcoholic beverage companies in India are in for challenging times, as the growth wave they were riding on in the past few years begins to subside.
According to research firm IWSR, growth in the Indian spirits market is expected to get slower, to a compounded annual rate (CAGR) of 4.3 per cent through 2018, compared to a 17 per cent CAGR in 2007-12.

"The alcoholic beverages market saw a slowdown in the past couple of years, post a strong growth phase. In addition, the market has seen realignment in terms of consolidation and margin pressures due to increasing costs, relative to a tapered growth in the market.
A combination of all these factors, along with realignments in the organisation structure, is leading to leadership changes," said Sushil Patra of retail consultancy Technopak Advisors.

Despite the slowing, India is still expected to record the world's second-fastest growth (after China), with total size of the Indian spirits market growing to almost 390 million nine-litre cases in 2018 from about 301 million cases in 2012, the firm says.

Globally, the CAGR of total spirits consumption is expected to drop to 1.5 per cent through 2018 from 6.4 per cent between 2007 and 2012, it says.

"I believe fresh thinking will come into the industry, particularly focusing on the consumer side of the story. For long, liquor was about managing regulation and strong distribution partners. With growing consumer savviness and particularly the growth of social media, companies will have to focus first on the consumer."
"The slowdown in an industry which was said to be recession-proof is evidence that you cannot take the consumer for granted. This will be helped by the fact that almost all have come from FMCG backgrounds," said Kanekar.

Deepak Roy, industry veteran and executive vice-chairman of ABD, puts the churn down to a "law of nature". "
This is a natural evolutionary process, where new faces are replacing old ones who have run the course. You cannot expect the old guard to continue in perpetuity. They will retire at some stage and new heads will take over. I don't see anything more to this," he says.